Privacy statement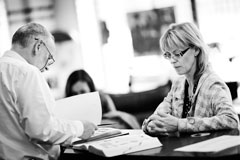 Why do we gather personal information?
When you visit the website of Bruun Rasmussen, you do so entirely anonymously. We do not gather any personal information - not even your email address. However, the browser on your computer does tell us the IP number and the type of computer and operating system you use.
In order to use the individual features of Bruun Rasmussen's website, you will be asked to set up an account with certain personal details. This applies, for example, to the submission of bids, payment for purchased items or on consignment of an item for auction.
Bruun Rasmussen gathers this information in order to be able to offer you improved customer service and to allow you easy access to services such as bid submissions and payment. In addition, we use personal information in connection with the purchase and sale of items at the auctions held by Bruun Rasmussen and to keep you informed of new services and other relevant information.
However, the personal information is also gathered for security reasons. In some cases, we may be required by the public authorities to disclose personal information. We therefore reserve the right to disclose the information to the Danish tax authority (SKAT) and the police for investigative purposes.
How do we obtain your personal information?
We gather information by a variety of means, and to visit some areas of Bruun Rasmussen's website it is necessary to set up an account with your personal details. The procedure is as follows: complete the form with your name, address, telephone number and email address; then choose a password to protect your information. Your information will then be filed and you will receive a client number. The next time you log onto Bruun Rasmussen's website all you need to do is write your client number and password and the system will find the necessary information.
As many other websites do, we use cookie technology on our website. The first time you connect to the website of Bruun Rasmussen, a cookie is downloaded to your computer. The cookies we use do not contain any personal information, but to some extent they enable us to adapt our website to your needs, and they also assist us in improving navigation around the site. You can set your browser to not use cookies.
What do we use the information for?
Information will be used in correspondence between you and Bruun Rasmussen in connection with the purchase and sale of items at Bruun Rasmussen's auctions.
Moreover, Bruun Rasmussen works together with other companies for the consignment of sold items. We share relevant parts of your personal details with these companies in order to speed up delivery of these items. The information handed over may only be used for consignment purposes and the companies are obliged to protect information in accordance with the policy of Bruun Rasmussen.
In certain cases we may be obliged by public authorities to supply personal information.
How do we protect personal information?
Bruun Rasmussen protects the information you submit to us by physical, electronic and administrative means. You should always protect personal information when connecting to the Internet. As a minimum precaution, you should replace your passwords frequently, use an alphanumeric combination and ensure that the Internet browser you use is secure.
Bruun Rasmussen uses SSL standard encryption (Secure Sockets Layer) on pages with personal information, thereby protecting confidential information when sending it via the Internet.
Access to personal information
You can access the personal information we have registered in your name by using "Your Page" on the website where you can see and edit the information. Furthermore you can contact Bruun Rasmussen customer support, if you have changes or questions about the information.
Bruun Rasmussen's general confidentiality policy
In order to ensure that personal information remains confidential, these guidelines for the protection of client identities have been given to all the employees of Bruun Rasmussen.
Bruun Rasmussen's website may contain references to other websites and collaborative partners. Bruun Rasmussen does not share your personal details with these and cannot be held responsible for their policies with regard to the protection of customer identity. We urge you to read the relevant website's policy with regard to the protection of customer identity.
Bruun Rasmussen reserves the right to alter its policy regarding the protection of client identity at any time. You can view any updates on this page.
Filming at the Auction House
On various occasions TV and video sequences are being filmed in the saleroom in Bredgade and at our other locations. On the days where this is the case, we will indicate the presence of cameras with signs. The footage is primarily used in connection with television broadcasts. We may also use the footage for other marketing purposes, including social media. If you do not want to appear in this footage, you can contact our staff at the location.
Any questions?
Should you have any queries about personal information, please feel free to send an email to support@bruun-rasmussen.dk or to call Bruun Rasmussen's technical support on tel. +45 88 18 11 14.
August 2004