Is My Item Insured?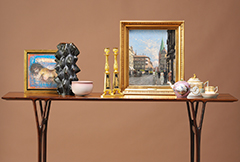 The items that we sell at Bruun Rasmussen Auctioneers have often been used for hundreds of years. Many of them are even made of fragile materials such as wood veneer and gilded plaster. Therefore, the items do not appear in perfect condition when we receive them.
We of course do our best to handle all consigned items with great care and consideration, but our handling of them does add an extra risk and we cannot guarantee that minor damages will not occur during the process.
Unfortunately, we therefore cannot cover all types of damages, but we do our best to register significant faults, defects and damages to items offered at the online auctions, while a so-called condition report can always be ordered for items offered at traditional auction.