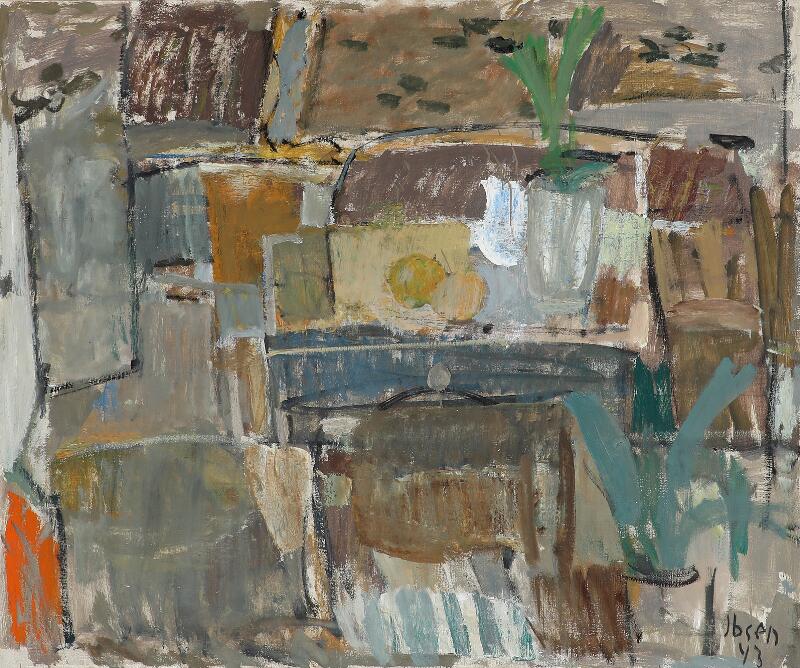 Immanuel Ibsen: The Invisible Modernist
If you're not already familiar with the Danish modernist Immanuel Ibsen, a leading influence in abstract painting, now is the time to become acquainted. Our Online Auction offers you ample opportunity to do just that.
Immanuel Ibsen might have been a quiet figure in Danish art history, but his works remain as vociferous evidence of the important role he played in the development of abstract painting in Denmark. His love of the surface and focus on colours as independent values inspired later artists such as Asger Jorn and Per Kirkeby. On 9 August, we're selling nine works by Ibsen at our Online Auction of Modern Art. All nine works come from the same private collection and were exhibited at Nivaagaards Malerisamling (art collection) in 2017.
A Restless Life and Mind
Immanuel Ibsen (1887–1944) moved from Skanderborg to Copenhagen when he was admitted to the Academy of Fine Arts in Copenhagen in 1911. He made his début at the Artists' Autumn Exhibition in 1917 and subsequently exhibited with the artists Axel Bentzen and Mogens Vantore, and at Charlottenborg's Spring Exhibition in 1920. But life as an artist is no bed of roses. Ibsen's time in Copenhagen was marked by financial uncertainty and poor health. He was forced to take on other jobs to support his family over a longer period and did not therefore exhibit at all until 1932.
In 1941, Ibsen opened his painting school in Sct. Annæ Passage in Copenhagen, where artists such as Ejler Bille, Asger Jorn, Erik Hoppe and Karl Bovin eagerly participated in discussion evenings. His lecture manuscripts Ukendte Selvfølgeligheder om Maleri og Det Skyggeløse Maleri (Unknown truisms about painting and the shadowless painting) were written down by his fellow artist and friend Jørgen Andersen-Nærum and published by the Autumn Exhibition in 1944. They would go on to inspire a generation of abstract painters and are today considered an important legacy of Ibsen. Nazi persecution of the Jews drove Ibsen and his family to Sweden, as his wife was Jewish, and at the age of just 56 he died of a heart attack.
In 2017, Ibsen had his well-deserved retrospective exhibition Stille Uro (Quiet Unrest) at Nivaagaards Malerisamling – a beautiful title that captured his mind and work as an artist. He lived for art and was deeply preoccupied by it, but he was also troubled by a brooding and restless mind. He was his own biggest critic and never satisfied with his works.
Nature in the Abstract
In Ibsen's early works, we often see landscapes and cityscapes that are characterised by outlines and a carefully selected play of colour. Outlining and his obsession with colour permeate his entire production. Many consider his later works to be where Ibsen reached the pinnacle of his career and truly excelled as a painter. The still life is his favourite motif because line, space, colour and surface all come together so perfectly. In Ukendte Selvfølgeligheder om Maleri (Unknown truisms about painting), Ibsen states that there must be a tension between these components in the painting, and that the use of colour – having a colouristic idea – is absolutely essential:
"I assert that, when it possesses a colouristic idea and is what we call an absoluteness within the frame, even a completely abstract image is then a piece of nature in itself. Such an image has more to do with nature than some random copy of nature."

Immanuel Ibsen, Ukendte Selvfølgeligheder om Maleri
For Ibsen, abstract painting, and the way it uses colour and space, had an ability to reproduce nature in a more faithful way. The colour on the surface took on independent values and thus also became a piece of nature in itself, brought to life by the artist and the brush. Although Ibsen's late works are figurative, he is moving towards abstraction.
For further information, please contact: 
modernart@bruun-rasmussen.dk
---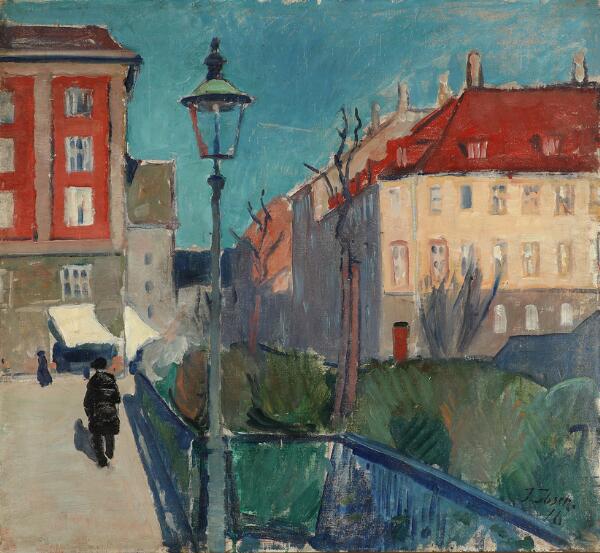 Online Auction
Paintings by Immanuel Ibsen
Tuesday 9 August 8 pm
---