Famous sculptor's collection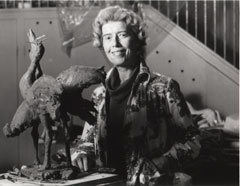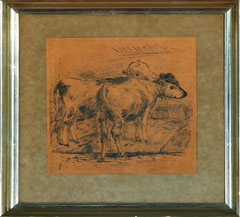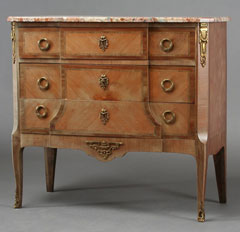 6 images
Helen Schou
Helen Schou, née Rée, (1905-2006) most certainly made her mark on the history of Danish sculpture. She is particularly famous for the two grand monuments: The equestrian statue of Christian X from 1955 at Bispetorvet in Aarhus and the "The Jutland Stallion" from 1969 at Østervold in Randers.
Her artistic background, however, was the art of drawing and painting. As a young girl she first studied with Agnes Jensen, and later with Agnes Lunn. When, at the age of seventeen, she became a pupil of Anne Marie Carl Nielsen, she also gave up painting in favour of sculpture. She kept up the art of drawing, however, since drawing was also basic to sculpture, just as she also held on to her love of the graphic arts all through her life. From 1929 to 1932 she was educated at The Royal Danish Academy of Fine Arts' School of Sculpture under Professor Einar Utzon-Frank.
Throughout the years she has been represented at numerous exhibitions. She made her début in 1927 at the Charlottenborg Spring Exhibition where she was subsequently represented on a regular basis. In the years from 1929 to 1934 she exhibited several times at The Salon in Paris, later at various group and individual exhibitions. In 1995, for instance, The Independent Exhibition featured a retrospective exhibition of her work. Today, she is represented at The Danish National Gallery, The Theatre Museum and in various public parks and spaces across the country.
"The sculptor of horse powers"
Helen Schou made a name for herself in the art world mostly by way of her many horse sculptures. The horse became her favourite motif for the quite obvious reason that she had been an able rider ever since she was a child. Her studies of horses were comprehensive. During her many travels around Europe she was strongly preoccupied with equestrian monuments in the various cities, but she also studied the horses of nature. Aside from doing countless anatomical sketches, she also helped dissect horses at The Royal Veterinary and Agricultural University, because, as she expressed it herself: "You simply must know the reactions and character of a horse". This way she came to know, literally from the inside, the anatomy of the horse and its patterns of movement.
When Helen Schou has been called the "the sculptor of horse powers" it refers, in particular, to her two main works – the equestrian statue of Christian X and "The Jutland Stallion". The making of these monumental sculptures was a slow process that entailed much hard work. They each took ten years to complete, and artist herself has called the equestrian statue the biggest artistic challenge of her life.
Sculptures of humans
Although Helen Schou's preferred motif was the horse, this was not the only motif she took up. Her human sculptures are also characterised by a fine sympathetic understanding. Her bronze sculpture "Mother and Child" (1943), situated at Bellevue Beach, for instance, is a quite unsentimental rendition of an erect, healthy, strong and proud woman with her child by her side. The obituary notice in Weekendavisen contained the following highly incisive description of her renditions of humans: "One of the reasons why Helen Schou has been capable of creating such lifelike and strong works, is that she has always attempted to get behind the surface. When modelling a person, she would always think of the lungs. This way she could create sculptures that seemed to breathe".
A collection out of the ordinary
There can be no doubt that Helen Schou's enormous private collection of paintings, furniture, arts and crafts and sculpture stands out as something completely special. This collection, mentioned in the book "Art in Private Possession" (1944), is very much a reflection of her own versatility and pronounced sense of quality.
Some of the items from the collection will now be offered for sale at online auction no. 704. Provenance will be specified for all items.
View all items from the collection at online auction 704