Pop Art and flower fertiliser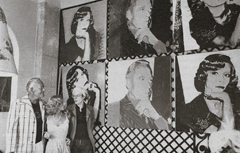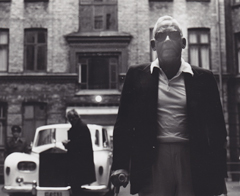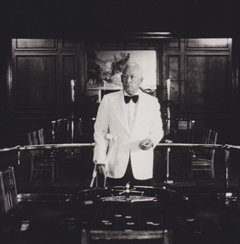 4 images
Hans Smith was a member of the international jet-set in the 1970s and a friend of Warhol. He was also a recognised art collector who adorned his home with works by artists such as Andy Warhol, John Kacere, Victor Vasarely and Roy Lichtenstein. The portrait up for auction is presumably the only original Warhol painting depicting a Dane. Hans Smith commissioned the painting from the artist himself, and it was probably painted in the period leading up to Warhol's solo exhibition in Monte Carlo in May 1974.
The king of fertiliser
"I am Hans Smith. I have made my millions from the flower fertiliser, Substral. I was born on 5 April 1921 in Nørrebro – a working-class neighbourhood in Copenhagen, the capital of Denmark. Now I live in Beverly Hills, California, in the winter and Monte Carlo in the summer. My wife is 25 years younger than me. I enjoy life – Heaven can wait."
This monologue is from the opening scene of the film "En Rig Mand" (a rich man) from 1978 portraying Hans Smith's extravagant lifestyle – a far cry from the modest Nørrebro backyard of his childhood. Having retired from his business and his life's work in 1977, Hans Smith was able to live out his dream of a life of absolute luxury. His homes in Los Angeles and the South of France were the setting for parties with the rich and famous. Andy Warhol and Hans Smith met on several occasions, both in Los Angeles and in the South of France, and developed a personal friendship.
The king of Pop Art
Andy Warhol was one of the absolute leading lights of Pop Art, and he was particularly well known for his iconic works with motifs taken from American mass and popular culture, including brands such as Coca Cola and Campbell's Soup as well as celebrity portraits of Marilyn Monroe, Jackie Kennedy and Elizabeth Taylor, to name but a few. He originally trained as a commercial artist and started his career in New York in 1949, where he worked for Vogue magazine, among other places.
In the late 1950s, he made the transition from the world of advertising and fashion to the art world. Here he paved the way for Pop Art, a completely new style, changing the approach to art by focusing on mass production rather than one-offs. Not only did he want to show mass-produced objects, but also to mass produce the art in his studio, which he called "The Factory". And he made no secret of the fact that art should also be good business. A distinctive feature of his works is the repetition of the same motif in different colour combinations.
Famous portraits
Warhol was obsessed with fame – his own and the fame of others – and he painted numerous portraits of influential personalities, some of his own choosing, others commissioned. The portraits were generally based on black and white Polaroid photos of his models taken by Warhol himself, who aimed for as much glamour as possible. He often employed the services of stylists to stage the look he was after. Warhol sometimes also used photos from famous Hollywood film productions, press photos or newspaper clippings for his serigraphs. He used an official portrait of Queen Margrethe II of Denmark for his "Reigning Queens" serigraphs from 1985.
Warhol at auction
The portrait of Hans Smith is being sold at the summer auction. The preview is open at Bruun Rasmussen, Bredgade 33, from 30 May until 3 June 2013. The auction takes place at the same adress on 11 June 2013.
Welcome!
View all the modern paintings up for auction
View all items including in the auction