Tanzanite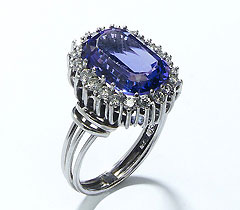 2 images
Tanzanite is a very special and unique gemstone. World-wide it occurs only in one special location, Tanzania, Africa. The Tanzanite was first discovered by some Massai herdsmen in 1967.
The Tanzanite is especially wellknown in association with the world famous jeweller Tiffany, who gave the stone its  name. The deep blue with the slight purple is one of the most extravagant colours available.
Estimate EUR 1,600 – 2,000.
Van Cleef & Arpels
Exquisite jewellery by Van Cleef & Arpels. This highly attractive diamond leaf-brooch by the world-famed jeweller Van Cleef & Arpels, was a present given by Mr. Maersk McKinney Møller at a naming ceremony of the ship TT Kirsten in Odense 1975.
This brooch, an "autumn-leaf", is set with a total of 5.00 ct. sparkling brilliant-cut diamonds.
Estimate EUR 6,700.
For further information, please contact:
Kirstine Lind: +45 3343 6971 · k.lind@bruun-rasmussen.dk
Heidi S. Jensen: +45 3343 6840 ·