From painter of princes to Skagen painter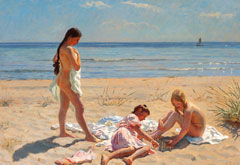 Laurits Tuxen's magnificent portraits of the kings and princes of Europe were held in tight compositions, and it was this work that formed his primary source of income. Only rarely does Tuxen's painting bear witness of his own artistic interests that were rooted in Danish naturalism and realism.
This is why the present painting, "A Summer's Day on the Beach at Skagen with Figures" from 1907, assumes quite special significance in Tuxen's oeuvre. In the painting, we see Tuxen's daughters, Yvonne and Nina, presumably in the company of P. S. Krøyer's daughter, Vibeke, at the beach on a hot summer's day. The inspiration from Krøyer's paintings is obvious in the emphasis on light and in the incipient naturalism (Lot. 1009).
Ever since their student days, Tuxen and Krøyer had been close friends. Through this friendship, in spite of his long journeys abroad, Tuxen was made aware of the artistic progress that characterised Danish art in the late 19th century. Motifs began to change, exteriors took the place of interiors, and painting was seen as an attempt to capture the original form of life that unfolded between nature and man. Artists sought support and inspiration from each other and formed artist's communities, in which they lived, celebrated and painted together. Danish art had entered a new age.
Preview: August 31st - September 4th
Auction: September 5th - September 15th