Auction in Vejle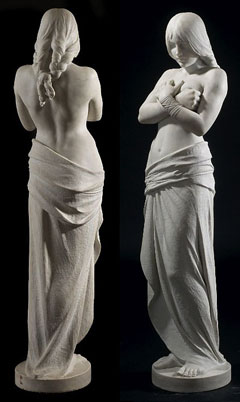 3 images
Old paintings and modern art
The auction is represented by several extremely fine paintings, which include interesting paintings from the Skagen painters Michael Ancher, P.S. Krøyer and Laurits Tuxen. In addition, the auction will offer a number of exquisite paintings by other Danish artists, among them a charming village scene by H.A. Brendekilde depicting children blowing soap bubbles.
Works of international class also include a signed dry point etching by Picasso with an erotic theme whilst from classic Danish modernism you will find works by such artists as Olaf Rude, Harald Giersing and Edvard Weie.
Furniture
The fine selection of antique furniture includes a Danish rococo bureau and a rococo commode, both probably made by Mathias Ortmann. Moreover, there are a number of signed pieces of French furniture and a large four-poster bed, the top pieces and posts finely inlaid with ivory.
In addition, the auction will offer a number of modern furniture classics, including a Poul Kjærholm chaise longue with a chromium-plated metal frame, a Finn Juhl NV-55 armchair with a teak frame and a large Kaare Klint dining room set with 12 chairs from the workshop of Rud. Rasmussen.
Beautiful marble and bronze sculptures
The female form is a favourite subject of Danish sculpture, of which the auction will offer several fine examples, including an almost 3-meter high bronze sculpture by Vilhelm Bissen, depicting Diana, goddess of the hunt and a charming young woman with hands tied sculpted in pure white marble by the Norwegian-born but later-to-become Danish artist Stephan Sinding.
High carat jewellery and watches
A diamond wrist watch would make a fine little Christmas present to put under the Christmas tree. The large selection of jewellery and watches includes items by Cartier and a Rolex diamond lady's wristwatch and a three-rowed diamond bracelet with 123 brilliant diamonds to a total of 24 carats.