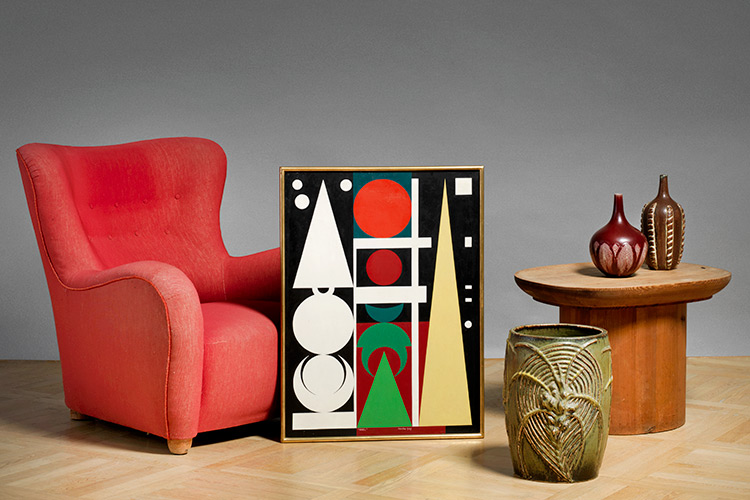 The Preview Is Open!
The preview in Copenhagen is open. Here you can get a closer look at the artwork, antiques, design classics, jewellery and wristwatches that are part of this year's final Live Auction. The last day of the preview is Monday, but at any time you can also experience the preview virtually.
The Preview Calendar
Thursday 24 November at 3 - 6 pm
Friday 25 November at 11 am - 5 pm
Saturday 26 November at 11 am - 4 pm
Sunday 27 November at 11 am - 4 pm
Monday 28 November at 11 am - 5 pm
Come to the Opening Presentation and Gallery Talk!
Opening Presentation: Thursday 24 November at 4.30 pm
Museum Director Jacob Thage from Museum Jorn will give a talk about the CoBrA movement as an international fellowship of artists.
Gallery Talk: Sunday 27 November at 12noon
Chief Specialist Martin Hans Borg from Bruun Rasmussen tells the story of Princess Thyra of Denmark's Sapphire Tiara and other royal jewellery up for auction.
Bonhams' Global Network
At Bruun Rasmussen, we have now been part of Bonhams for more than half a year. We work closely with art specialists from other auction houses, share knowledge and promote the art objects at our auctions in places around the world where it makes the most sense for the auction lot and our customers. The collaboration has been rewarding in every way, and at the auction house we look forward to the continued journey together with Bonhams' global network. The collaboration also means that Bonhams' international customers can join the bidding at our current Live Auction via bonhams.com.
Everyone is welcome at the preview and auction. We look forward to seeing you!