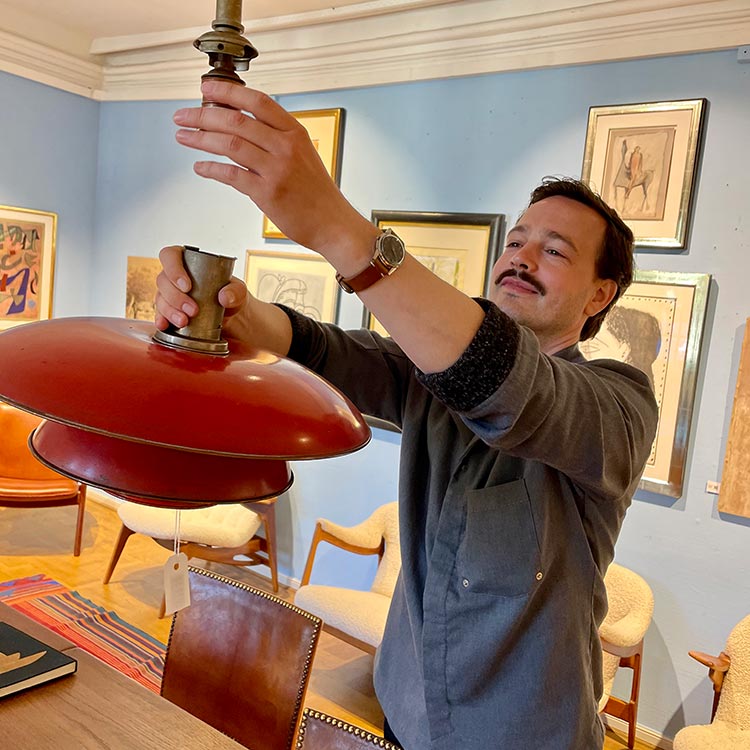 The PH Paradox
The PH lamp, named after its designer Poul Henningsen, lights up a good deal of Danish homes and workplaces. It is owned by many in Denmark and known all over the world. At the same time, it is a highly sought-after collector's item that is bought and sold at high prices on the auction market. How do we explain this paradox between supply and demand? Our specialist in PH lamps, Andreas Krabbe, helps us shed light on the matter and explain why a PH lamp is not simply a PH lamp.
"The PH lamp represents a special chapter in the history of Danish design. The lamps create a special atmosphere in a room – both by virtue of their beautiful design and the pleasant light they emit. And today they light up both private homes and office spaces all over the world," says Andreas Krabbe, our specialist in PH lamps, when he is presented with the question of why PH lamps are so fascinating and why people collect PH lamps.
"The more you dive into the world of the PH lamp, the more fascinated you become by it. Poul Henningsen's lamp designs have so many facets. And it was something he created in parallel with his work as a playwright and cultural critic. For collectors, a PH lamp is not simply a PH lamp."

Andreas Krabbe
When Did People Start Collecting PH lamps?
"In the 1970s and 1980s, PH enthusiasts started meeting and swapping lamp shades – a bit like swapping stamps or coins. It was a fairly dedicated crowd of collectors, several of whom still collect today. They chase the many beautiful lamp shades in different materials and colours from different time periods. Since then, the interest has only grown. Today, many people own a PH lamp, but only a small circle actually call themselves PH lamp collectors. That said, the approach to collecting is quite broad, some people buy complete lamps, while others collect spare parts."
Spare Parts – What Do You Mean by That?
"This means focusing on buying individual parts for the PH lamp. The lamp is designed so that you can change the different parts. The number of combinations for a dexterous collector is almost endless. Frames and shades come in different types of metals, alloys, glass, shapes and colouring."
"But there are still some 'rules of the game'. It is important, for example, that frames and shades are from the same period. Some of the most in-demand lamps are therefore original lamps, where the whole thing fits together as it did originally, for example a lamp with original shades, frame and socket from 1928, which may even have been in the same family's possession since the first purchase. This is the finest type of PH you can find – it's early and original. That is why such a lamp also costs much more than the new PH lamps you can buy in the stores today."
Who Are the Collectors?
"I am inclined to say 'everyone'. More and more people see a PH lamp as a completely natural part of their home or workspace. You are collecting a piece of design and cultural history. The lamps are timeless and fit into any type of interior. When it comes to collectors who focus on assembly kits and find joy in tracking down the right parts from the right period, then these have traditionally primarily been men. But most people can see the beauty in, for example, the early, tinted glass shades."
Do You Have any Advice for New PH Collectors?
"It's relatively cheap to get started – some lamps can be acquired for less than DKK 1,000. So, you should probably find out where your interest lies. Are you driven by the hunt and the activity of putting lamps together from different original parts from the same period? Or are you more interested in where the lamp fits in your home? In addition, I would strongly recommend that you acquire the book "Tænd – PH-lampens historie" (Light Years Ahead – The Story of the PH Lamp). It deals in depth with the structure, development and significance of the lamp in design history from the 1920s and up through the 20th century. Last but not least, come by our preview, where you can experience some of the many PH lamps that come on the market."
For further information, please contact:
Andreas Krabbe

Specialist / Modern Decorative Art & Design / Havnen