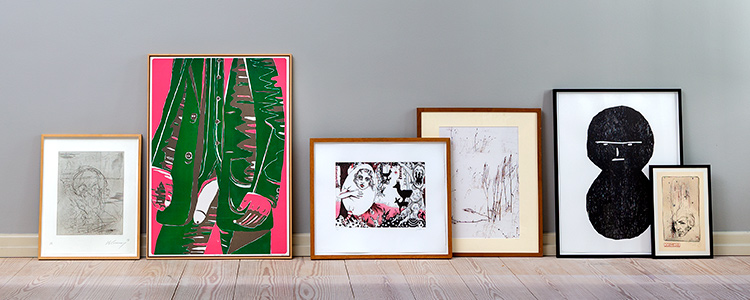 Niels Boe-Hauggaard has selected a series of works from the auction that illustrate the various printing techniques, where the artist, printing technique and workshop all contribute to the final artwork: Etching by Christian Lemmerz, woodcut by Tal R, engraving combined with etching by Julie Nord, photograph by Per Bak Jensen, woodcut by David Shrigley and lithograph by Kasper Eistrup.
Contemporary Art on Paper
Are you dreaming of owning a work by one of the greatest Danish contemporary artists? But does your wallet go on strike whenever it comes time to make the dream a reality? The solution might be to take a closer look at the artists' printed artwork. In this article, our specialist in contemporary art, Niels Boe-Hauggaard, guides you to some of the best prints at our current Online Auction with contemporary art.
Refined Art Form
"Prints are a slightly overlooked art form. Some are of the opinion that it is not original art. But that is far from true. Prints are the result of a refined process, where the artist in close collaboration with a printer – or a "master printer" – creates a work of art in itself," says specialist in contemporary art, Niels Boe-Hauggaard.
Printed art covers various artistic printing processes on paper – from woodcuts and linocuts over engravings and etchings to silkscreens, photography and newer digital printing formats. Therefore, for some it may seem like a bit of a challenge to make heads or tails of the many different printing techniques. Not to mention the different editions and numbers the prints come in.
"An original print is traditionally an image conceived by an artist to be created on one surface and transferred onto another, thereby enabling the production of more than one final image. The original work of art is the print itself, the end product of the process, rather than the block or plate from which it is printed."

Helen Rosslyn, Director of "The London Original Print Fair".
A Complicated Artistic Process with Many Expressions
Niels Boe-Hauggaard wants to encourage everyone to dive into the world of prints: "Collecting original prints is extremely exciting. And prints are not copies or reproductions of something else, as one might think. Every single print is original – it is the result of the individual encounter between paper, colour and plate. You can only print a certain number on the same stone or plate before the quality of the print decreases, and then you have to start the process all over again. Sheet by sheet it is a detailed and complicated artistic process. To ensure the quality, each sheet is also numbered and signed."
"The artist often actively chooses to work with one particular printing technique, because it contains an artistic expression or a process that is not achieved with a painting or a drawing. In the work with printing – whether it is lithography, etching, or photographic printing – all parts of the process must be thought through in different ways. Many artistic choices must be made – in addition to motif and technique, paper, colours, etc. play a role as well. And the process also includes the opportunity to mix techniques or make colour variations of the same image. Just think of Warhol."
A Strong Danish Print Community with International Appeal
"In Denmark, we have a highly specialized print community and a very professional printing scene, which in fact also attracts artists from abroad. Among the most prominent are probably Edition Copenhagen, Borch Edition, Schäfer Grafik and Hostrup-Pedersen and Johansen. If you see prints from these names, you can be sure that the quality is top notch, and this is also where the greatest Danish contemporary artists get their works printed."
At this Online Auction, many of the biggest names on the Danish contemporary art scene are represented with a wide range of print techniques ranging from lithography over silkscreens to etchings and woodcuts – from Tal R and Michael Kvium to Per Bak Jensen and Julie Nord.
Niels Boe-Hauggaard has the following five tips for what to look for in a print:
Is it a well-known name?
In addition to the famous artists, one can typically also make good purchases by keeping an eye on younger artists who have gone to the art academies or have exhibited at renowned galleries or theme exhibitions.
 
How many copies have been printed?
There is often a significant price difference depending on whether a work is printed in 20 or 300 copies. So here it is a good idea to investigate a little and perhaps check with the gallery, the printer or look at a list of the artist's works.
 
Is the work signed?
Signed works are, as a rule of thumb, always more interesting than unsigned ones. The signature indicates that the work has been approved by the artist and is not a test print, for instance.
 
Is it in good condition? What is the quality of the print and paper?
If the work has suffered water damaged, has holes, cuts or stains, it can also affect how interesting it is to spend money on. Collectors often care quite a lot about these details.
 
Is it printed at a reputable workshop?
If the printer is an established name, it guarantees a high print quality, so this is also a good idea to keep an eye on.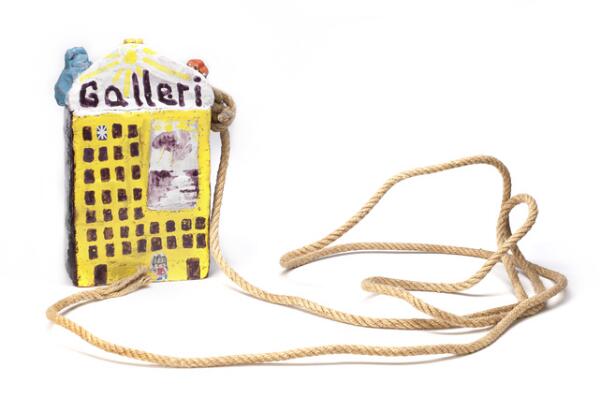 Online Auction
Contemporary art
Tuesday 19 October 7 pm