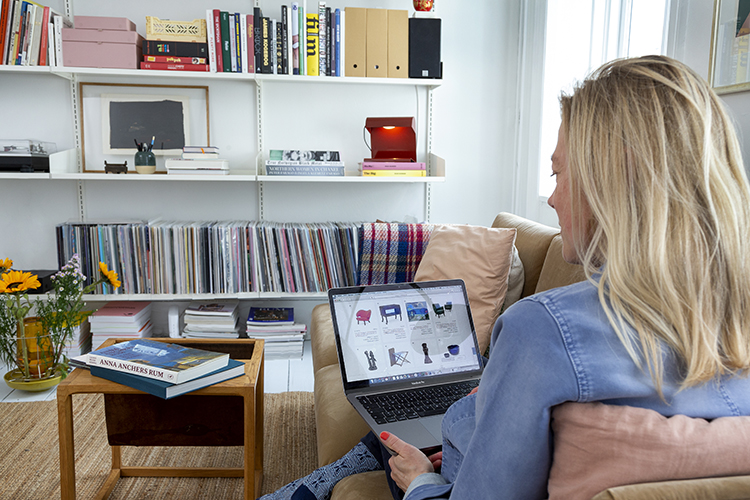 Seven tips About Online Auctions
How do you actually bid from your computer, and what if you want to see the item before the auction? We have put together seven tips for you if you are considering buying at an Online Auction, but you don't quite know where to begin.
You may be familiar with auctions from the movies where bidders raise their numbered paddles in a packed saleroom while the auctioneer swings a hammer from the podium. But auctions are much more than that.
Every week, all year round, more than 1,500 items are auctioned off via our Online Auctions. From your own home, you can comfortably bid on art, design, antiques, jewellery, wristwatches and collectibles – often at a more affordable price than at our Live Auctions.
If you want to know how to get started, we have collected seven tips about Online Auctions here:
1. Check Out Our Website
On our website you will find all upcoming auctions and information about each and every item. If you want to keep track of what is at auction, you can sign up to our newsletters, follow us on our social media or create a search agent.
On the website you will also find practical information about buying at auction, which can be good to familiarize yourself with before you place your first bid.
2. Visit the Preview
All items from our Online Auctions will be exhibited before the auction at what we call a preview. Here you have the chance to get a closer look at items or try on what you might have become interested in.
We have several locations, and in the description of each item you can see, where the item is located. There is no entry fee for the preview, and it is open to everyone, and you do not have to book your visit in advance.
3. Ask the Specialists
If you live too far away from us or for other reasons cannot come past the preview, you are welcome to write or call one of Bruun Rasmussen's specialists to have any questions clarified.
4. Settle on Your Highest Bid Before the Auction
It may be a good idea to consider what your limit is before placing your first bid. What is the highest price you would pay for an item? That way, you don't have to worry about bidding more than you planned if someone outbids you.
In this context, it is a good idea to find out what the final price will be after the buyer's premium has been added. For works by newer artists, a royalty fee must also be paid, which you should take into account if you decide on a maximum bid.
5. Bid in the Way that Suits You Best
There are several ways you can choose to bid at the auction depending on what suits you best. You can either place your bids one at the time during the auction, so that you increase the bid yourself. You can follow the bids on the website, and if you are outbid, we will notify you directly.
You can also place a maximum bid, and with that we make sure to bid for you in the best way possible until you have reached your limit. Of course, this might mean that you get the item at a lower price if the other bidders give up before the auction reaches your maximum bid.
6. Pick up Your Items
If you have been lucky enough to buy your dream item, remember to pick it up from us afterwards. You do this by picking it up at the address stated on your personal page after the purchase. If we move your item into storage, this will also be updated on your personal page.
If you cannot pick up your purchase yourself, you have several options. You can send another person or a carrier, or you can book transport via our website.
7. The Knockdown Is Not Binding at Online Auctions
Once you have become the lucky owner of a new purchase, the money is automatically drawn from your account right after the hammer comes down. But unlike our Live Auctions, the knockdown is not binding at Online Auctions, because you have a 14-day right of withdrawal.
If you have further questions about Online Auctions, you can find answers to them in our guide.