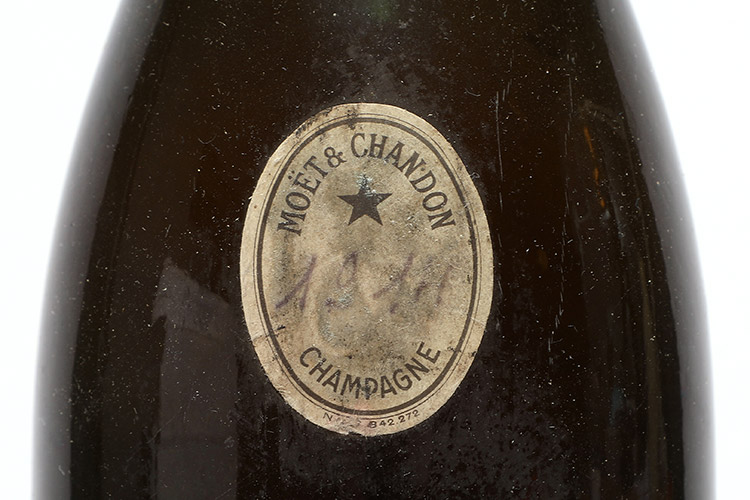 Moët & Chandon 1914
It is difficult not to present a cacophony of clichés and quotes about drunken statesmen, enterprising businesswomen and not least the one about the monk with the headache when the paean to the effervescent glories of Champagne is to be told. But when the conversation falls on the year 1914, the clamouring choir falls silent.
"It is probably not possible to prepare oneself for the encounter this bottle contains. The provenance signifies a great tasting experience. In addition, there is also the emotional reaction that reaches out towards the future owner from behind the slightly verdigris and bottle-green shawl of history." 

Bruun Rasmussen wine specialist, Thomas Løbner-Olesen.
A Miracle Created in the Shadow of the War
We can now present a bottle of Moët & Chandon 1914 at our wine auction. The vintage is among the greatest in the 20th century in terms of quality. Much has been written about this. Another side to the vintage is what the poor Champenoise had to go through to secure the most important and burdensome harvest of their generation. In some cases, the highest price was risked in this endeavour, both in the field and for the region of Champagne as a whole.
The moment of disgorgement was probably sometime in the 1970s, and before that, the bottle had been resting on the sediment for over fifty years. Of course, the grape distribution is in Chardonnay's favour, as the northern part of Epernay was hit harder by the raging war than the south, where Chardonnay thrives to a greater extent in the meagre and malic acid limestone soil.
Harvesting took place from September to October, and the work was mainly done by women, children and the elderly, as the men were sent off to war. They had to harvest in the late hours and at night, where the cover of darkness gave hope of a respite from the risk of being shot at by either artillery or snipers.
Even More Champagne at the Auction
If the mentioned bottle is too much of an emotional roller coaster ride, we offer 52 other lots with bubbles at the current auction, which we presume will be able to make your blood circulate faster but not necessarily challenge your heartbeat and nerves with exactly the same strength as the previous mortar round, which here is replaced by a burst of links to the highlights of auction 2109. 
---

Online Auction
Wine
Sunday 7 March at 8 pm
---