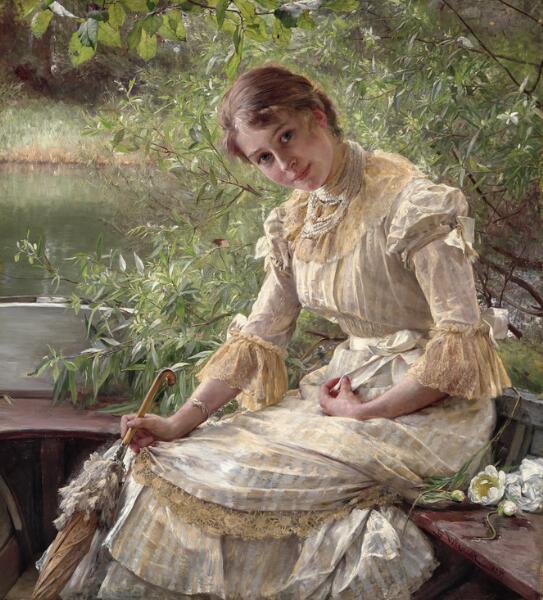 Theme: Female Artists
Strong female voices have over time not been given their proper due in art history. Like a number of museums and historic researchers, we will be focusing on female artists at our auctions in the coming years. We begin with a closer look at the second half of the 19th century.
Precisely 100 years have passed since "Den Frie" (The Free Exhibition) opened its doors to the landmark "Kvindelige Kunstneres retrospektive Udstilling" (Female Artists' Retrospective Exhibition), the purpose of which was to demonstrate the talent of the female artists at the time. During the ensuing period, however, many of these artists have faded from the public's memory. At this year's final Live Auction in Copenhagen, we will inaugurate our new focus on female artists, and it is our hope that we will help shed new light on prevalent art history, where many talented women have been overlooked. It is no secret that the female gender and art have in the past been considered in opposition to each other and that historical gender roles stood in the way of many women's careers as artists. Despite the gender bias in art history, and the fact that women only gained access to the Royal Danish Academy of Fine Arts on an equal footing with their male colleagues in 1908, there were women in the 19th century who lived for and of their art and were recognized during their own lifetime.
The Portrait Painter Bertha Wegmann
One of the first female professional artists in Denmark was the Austrian-born painter Bertha Wegmann. Early on, she experienced gender stereotyping in regards to what defined the right kind of artist: "Well, Father wanted me to learn how to paint, so he sent me to the history painter F.C. Lund! A terrible place to send me […] God have mercy, he treated me poorly! "Fool! Idiot! Mindless individual!" were just a few of the words constantly hailing down on me. "Ha, should such a person be a painter! No, she should be a cleaning woman! Cleaning woman, she seems better suited for that!" But a few years later, thanks to the support of Copenhagen patrons, Wegmann was able to become a student at the French art school "Ecolé de Dessin et Peinture pour Femmes". Wegmann's paintings found their way to the Salon de Paris, and in Denmark she became one of the leading portrait painters of the time, depicting the financial and cultural elite. At the auction, we can present her wonderful portrait of the young Marie Triepcke, who married the Skagen painter Peder Severin Krøyer.
Read more about Bertha Wegmann in MA and PhD Emilie Bierlich's article.
The Brave Painter of Women Elisabeth Jerichau Baumann
Another female artist active during the 19th century was Elisabeth Jerichau Baumann, and there is a long way from Wegmann's adorable portrait of Marie Triepcke to the mermaid we have up for auction by Baumann. Originally, she was Polish-German but settled in Copenhagen in 1849 due to her marriage to the sculptor Jens Adolf Jerichau. Baumann was a true cosmopolitan and achieved a significant international career with her powerful portraits and depictions of women. In the offered work, the mermaid looks at the viewer with a strong and seductive look – resembling a beautiful, supernatural siren that could lure just about anyone astray. Baumann returned several times to the mermaid as a motif, and at one point she gave a painting to her friend Hans Christian Andersen, who himself was preoccupied with the mermaid theme in his fairy tales. He acknowledged the gift with the following short poem: "You master the splendour of colours!/ A soul you have put in the mermaid's eyes/ A wink from you, from the spirit's power!/ My gratitude here expressed in mere words."
Read more about Elisabeth Jerichau Baumann in an article by MA and PhD fellow Signe Krogh.
Included in the auction are several other female artists from the 1850s and up until the beginning of the 20th century – including Emilie Mundt, Anna Ancher, Agnes Slott-Møller and Helvig Kinch.
---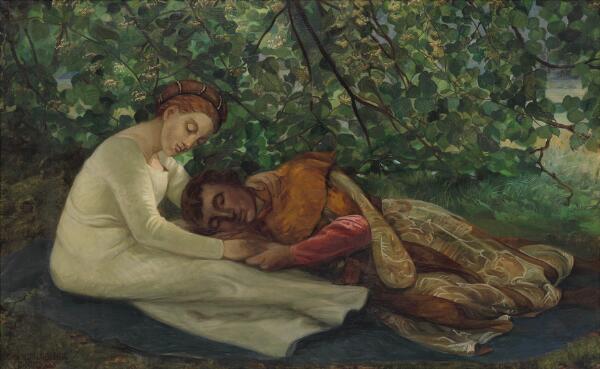 Live Auction
Female artists
1 December at 4 pm
---
Important Dates for Female Artists
1920: Exhibition at "Den Frie" (The Free): Female Artists' Retrospective Exhibition
1916: The Danish Women's Artist Association is founded
1908: Women are allowed access to the Royal Danish Academy of Fine Arts in Copenhagen on equal terms with men (Women and men are still taught separately in the "Drawing nudes" class up until 1924)
1888: The Art Academy's Art School for Women is established with Johanne Krebs as headmistress 
1876: The Draftsmanship and Industrial Design School for Women is established at the initiative of the Danish Women's Society
1871: The Danish Women's Society is founded