Islamic Art
For the first time, we are focusing on Islamic art at one of our Live Auctions with everything from Ottoman tiles to beautiful watercolours from India. The many artefacts are examples of how a unique Islamic culture was created across both time, national borders, ethnicities and religious affiliations.
At this year's final Live Auction in Copenhagen, we have chosen to turn our attention to Islamic art and have placed about 50 lots up for auction with paintings, decorative art and weapons from this part of the world.
Ottoman Tiles from a Danish Collection
Several of these works of art originate from the Ottoman Empire, which from the 14th century left its political and military mark on the map of the world. The empire stretched from southern Europe across North Africa to the Middle East and represents one of the richest periods in Islamic art. The cultural life flourished, and although the Empire spanned a long time period and a very large geographical area, it still makes sense to talk about a shared artistic expression. From the 15th century, a special style developed based on ornamental decoration systems and mathematical calculations, where precision, repetition and elements from nature were the guiding principles. The idiom influenced not only art but also architecture. Bazaars, bathing facilities and pavilions were built in great numbers, and here both interior and exterior walls were decorated with colourful, ceramic tiles. At the auction, we have a number of these tiles, whose stylized elements from nature, arabesques and calligraphy create the most beautiful patterns. Some of them are from the area around the Turkish city of Iznik, while others come from the Shia Muslim Safavid Empire in Iran. These tiles have all been owned by MSc in Engineering I.C. Larsen, whose broad historical interest led to an art collection out of the ordinary.
Elephant Parade and Tiger Hunting
Another prominent collection was established by the extremely quality-conscious Danish antique dealer Steen Strømberg. His collection includes some very fine watercolours from 19th century India – one of them depicting a landscape with tigers being tracked by a nobleman and his hunting party riding on elephants. A painting of an impressive interior is also quite picturesque with a standing nobleman wearing poulaines and equipped with a knife in his belt and a sword in his hand. Speaking of weapons – we can also present a range of high-quality Ottoman weapons, such as a large Persian Pesh Kabz dagger, Indo-Persian axes and several Indian katars used by the Rajput warriors.
---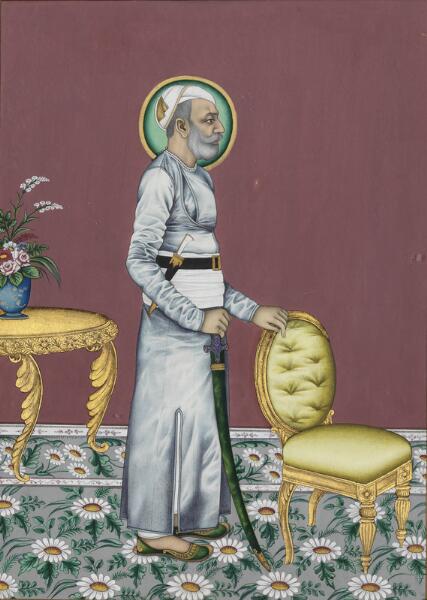 Live Auction
Asian & Islamic art
2 December at 2 pm
---