When the Horror is Carved in Porcelain
For the first time at our Contemporary Art auction in Copenhagen, we can present two porcelain sculptures by the Danish contemporary artist Maria Rubinke, whose surprising combination of imagery and choice of material plays tricks with the sculptural stereotypes of porcelain and takes the viewer deep into an alluring, gruesome and fairytale-like universe.
In the Danish artist Maria Rubinke's sculptural universe, the often macabre or even blood-dripping figures stand in stark contrast to the innocent, fragile porcelain material they have been conjured from – far from the traditional use of porcelain we otherwise know from, for instance, The Royal Porcelain Factory. Right now, two of the haunting porcelain sculptures can be experienced at our Live Auction of Contemporary Art in Copenhagen.
Watch our specialist in Contemporary Art, Niels Boe-Hauggaard, takes us below the surface of Maria Rubinke's work "Under My Surface".
Fascinated by Grandma's Royal Porcelain
It was the porcelain figurines on her grandmother's shelves that ignited the artist's fascination with the material. Later, the fascination was expanded upon through an education at the Glass and Ceramics programme at the School of Design on Bornholm. Since then, Rubinke's career has gained momentum, and she has exhibited at galleries, museums and art fairs in Denmark, Norway, England and the United States as well as in the home of porcelain itself: China.
When it comes to the meaning of her fierce tableaux, Rubinke has stated that they are based on the complexity of the human mind:
"I make self-portraits. I call it 'state of mind' art (…) I go to the places where the problems are. If it was all fine and dandy, then it wouldn't matter".
---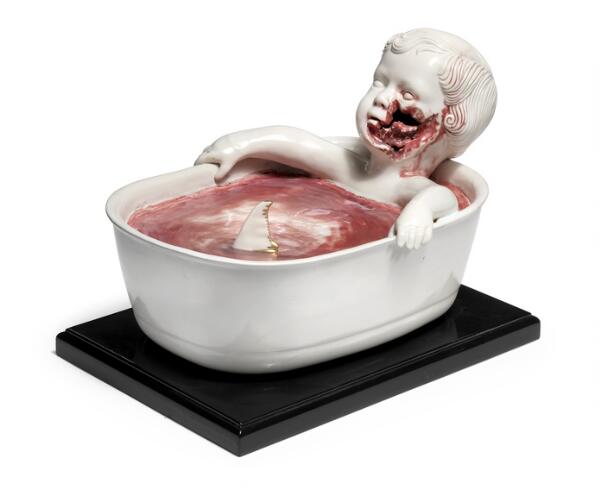 Live Auction
Contemporary Art
Tuesday 22 September 4 pm
---
In Need of a Valuation?
Do you have works by contemporary artists that you are considering selling at auction? Upload a photograph and a description via our online valuation service, and you will have the valuation within just a few days. The deadline for consignments to our next theme auction is 22 September.