Jens-Peter Brask & Lucie Kaas: Kokeshi Art at Charity Auction
Imagine that you don't have a home. No place where you can be comfortable. No space that you can decorate exactly as you want to. This is the harsh reality for many people today. The Danish design company Lucie Kaas, in collaboration with the art collector Jens-Peter Brask, has chosen to focus on this global problem with a charity auction at bruun-rasmussen.dk for the benefit of the Danish Refugee Council during the design festival "3 Days of Design".
The whole premise of a design business is that people have a home to decorate. The design company Lucie Kaas has chosen to focus on this premise during the design festival "3 Days of Design" with an exhibition of unique kokeshi figures decorated by a large group of Danish and international contemporary artists. After the design festival, the figures will be sold at an online charity auction on behalf of the Danish Refugee Council.
Through this project, I want people to reflect on what a privilege it is to be able to decorate a home – that peace is fragile – and that you don't have to look far to find someone near you whose life has been affected by unrest.

Ellora Rasmussen, CEO of the Lucie Kaas company.

Rasmussen's own parents fled Bangladesh in the 1970s.
Contributing Artists
The exhibition, which will be shown in Copenhagen's Nordhavn neighbourhood 3-5 September, is entitled "When we leave our homes, where do we go?" and is curated by art collector Jens-Peter Brask, who, among other projects, has established Northern Europe's largest outdoor gallery on the buildings of the Mønten (The Coin) neighbourhood in Copenhagen's Nordvest district. It is artists behind the large gable paintings in Nordvest who have been invited to decorate the 60 cm tall, white kokeshi figures. The kokeshi figure is a very central part of Lucie Kaas' universe, and it was therefore only natural to give the artists free rein to decorate this particular sculptural form.
In addition to a large number of Danish artists, the contributors also include international names such as Mad C, Boy Kong and Lady AIKO, the latter has recently visited Denmark, where she decorated the walls of the entrance to the Michelin-starred restaurant Alchemist.
---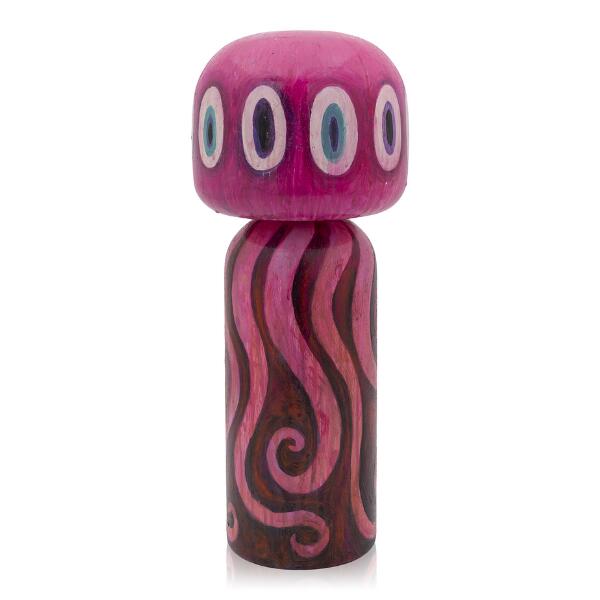 Online Auction
Lucie Kaas x Jens-Peter Brask x Danish Refugee Council
8 September at 7 pm
---
---
More info about Lucie Kaas
---
For further information, please contact:
Niels Boe-Hauggaard: +45 88181182 · nbh@bruun-rasmussen.dk