Hammer Prices and Museum Purchases
Art, design and antiques were all part of this summer's Live Auction in Copenhagen, which has now delivered an unexpected fine overall result with both six hammer prices in the millions and six museum purchases.
It's no secret that we here at Bruun Rasmussen were very interested in seeing how this summer's Live Auction in Copenhagen would unfold in the light of the ongoing corona crisis. Fortunately, all our worries were put to shame:
This is truly uncharted territory. Our results as an auction house have almost always followed the financial market, but despite the current global crisis, we are seeing an art market that is stronger than ever and delivering historic numbers in the key areas of our business. At this latest Live Auction, we saw that people had money burning a hole in their pockets, and they were willing to bid on almost everything we presented at the podium. Some people placed their bids based on what they had fallen in love with among the many interesting lots, while a good deal of people were looking for an investment – in all likelihood due to an uncertain financial market and the banks' negative deposit interest rates.

Kasper Nielsen

Director of Sales and Valuation at Bruun Rasmussen
The Auction's Most Remarkable Results
The absolute highlight of the auction was Asger Jorn's unbridled liberation painting "Landscape in Finkidong" from 1945, which against an estimate of DKK 2.5 million settled on a hammer price of DKK 3.7 million (€ 645,000 including buyer's premium). The Danish song "To lys på et bord" (Two Candles on a Table) was sung by auctioneer and owner Jesper Bruun Rasmussen on the podium when it came time to auction off Vilhelm Hammershøi's motif with two lit candles, which was sold for DKK 2 million (€ 349,000 including buyer's premium) against an estimate of DKK 300,000-500,000. Right on the heels of these two paintings came Peder Severin Krøyer's motif from Skagen with the Danish writer Holger Drachmann and his wife Soffi in front of a Midsummer Eve bonfire with a hammer price of DKK 1.7 million (€ 297,000 including buyer's premium). The wristwatches were also enjoying a bullish auction market at this auction, and the overachiever in the group was an example of Rolex's Model Daytona, the so-called "Paul Newman" watch, which went for DKK 1 million (€ 175,000 including buyer's premium). Other hammer prices in the millions included a landscape painting by Hammershøi and a farm motif by Russian artist Vladimir Donatovich Orlovsky. Other surprises arrived in the shape of a lithograph by the artistic giant David Hockney that was sold for DKK 560,000 (€ 98,000 including buyer's premium). 
We offered a total of eight works by the sought-after North Jutland-based artist Poul Anker Bech, and his works at this auction went for hammer prices between DKK 95,000 to DKK 320,000. The highest of these hammer prices was a record for the artist and achieved with the work "The Green Wave II". The Bornholm painter Oluf Høst also broke his previous record of DKK 420,000 with a hammer price of DKK 800,000 (€ 140,000 including buyer's premium) for the beautiful work "Sankt Hansbål" (Midsummer Eve Bonfire).
The Auction's Museum Purchase
The Danish and international museums often visit our auctions – both online and in the saleroom. This time, six works at the Live Auction found their way to a museum. At the Øregaard Museum just north of Copenhagen, they brought home a flower painting and a motif with windfall apples by two 19th-century female painters, Emma Thomsen and Ada Sindberg:
Part of our strategy at Øregaard Museum is to shed light on overlooked artists in art history. Therefore, we would like to focus on the talented female painters of the 19th and 20th centuries, who were only allowed to develop their artistic abilities to a limited extent and have often subsequently disappeared into oblivion. Emma Thomsen was a student of the flower painter J.L. Jensen, who is already represented in the museum's collection, so it is especially interesting for us to present some of the women whom he influenced through his work as a teacher of flower paintings. Ada Sindberg was also a very fine painter and one of the few women who – like Thomsen – exhibited at Charlottenborg, home to the Royal Danish Academy of Fine Arts. Today, Sindberg's works are largely unknown, but now she will finally have one of her paintings on display at a Danish art museum. The two works by Thomsen and Sindberg will first be treated by a conservator, but eventually, they will become part of our large special exhibition in August next year in connection with Øregaard's 100th anniversary as a museum.

Museum Director Sidsel Maria Søndergaard
The National Gallery of Denmark had also set their sight on a work by a female artist – Ebba Carstensen's Modernist painting "Fruit Seller" from 1922, while the Hirschsprung Collection bought Fritz Petzholdt's "From the Pontine Marshes", which was made in 1836. The Art Museum Brundlund Castle in Southern Jutland focused on O.D. Ottesen's "Chrysanthemums surround a crucifix", which the painter created during a stay in Paris in 1856. Another of the auction's works is on its way to the Nationalmuseum in Stockholm, namely a landscape from Møns Klint by Peter Christian Skovgaard.
 
We congratulate the museums on their recent acquisitions! You can follow our updated list of museum purchases here
---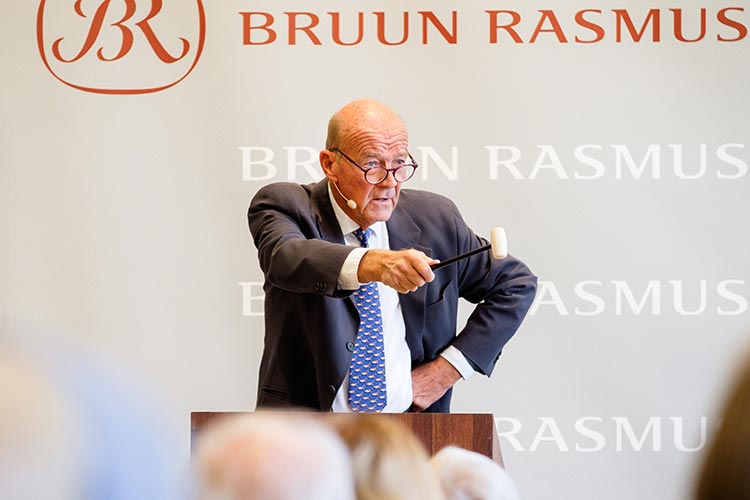 Bid at an Auction during Your Summer Holiday!
---