Midsummer Eve in Skagen
In an atmospheric study for the painting "Midsummer Eve Bonfire on Skagen's Beach", Peder Severin (P.S.) Krøyer portrays one of his close friends in the famous artist colony in Skagen – the writer and painter Holger Drachmann and his wife Soffi at a Midsummer Eve bonfire.
"We love our country, but at Midsummer most ..."
The above lyrics come from the Danish "Midsummer Song", which Holger Drachmann wrote in 1885 for the play "Once Upon a Time". As a writer, Drachmann was one of the Modern Breakthrough's controversial figures, and as an artist, he came to play an important role for the artist colony in Skagen. There at Denmark's northernmost point, he met one of the period's finest painters of the Danish summer: P.S. Krøyer. This painter's most famous work is "Sankt Hans-blus på Skagen Strand" (Midsummer Eve Bonfire on Skagen's Beach) from 1906, where he gathered local residents, the finer citizenry and representatives from the artist colony around the festive Danish summer tradition of the bonfire. The work was completed in 1906 and became one of Krøyer's final paintings. He started on the motif as early as 1903, where he placed his easel near an old tipping light in Østerby and immortalized those present around the bonfire in the composition that would become the final work three years later.
The Couple in the Centre
At this auction, we present one of Krøyer's studies for the painting from 1905 – where he with his characteristic, quick brushstrokes has painted a portrait of Drachmann and his last wife, the Norwegian-born Soffi. The couple is preoccupied with something outside the frame of the painting, and their faces are lit up by the Midsummer Eve bonfire that you see in the final work from the following year. Drachmann towers in his distinctive black cape and exotic hat while holding his cane in one hand and his much younger wife in the other. In their facial expressions, the unaffected calm of the elderly person and the youth's expectant joy meet. Drachmann had chosen a central position near the bonfire, but this turned out to be a strategically poor choice of location:
"My dear Søren, if you leave me here much longer, my beard and hair will turn pitch black. Also, I hate the smoke." 

Holger Drachmann to P.S. Krøyer
Watch our design specialist Peter Kjelgaard talk about Poul Kjærholm's "PK 25" chair.
Additional Works by Krøyer
The study is brimming with a summer mood, and it is accompanied by four other Krøyer paintings at this auction: An additional portrait of Drachmann, a coastal view of the North Sea and one of Krøyer's l'Heure Bleue motifs with a boy paddling in the moonlight. We can also offer one of his works not based on daily life in Skagen. This painting is an unknown nude study of Rembrandt's "Bathsheba at Her Bath", which Krøyer made during a trip to Paris in 1877. A final twist to the tale is that we can also present two works by Holger Drachmann, who was an avid marine painter.
---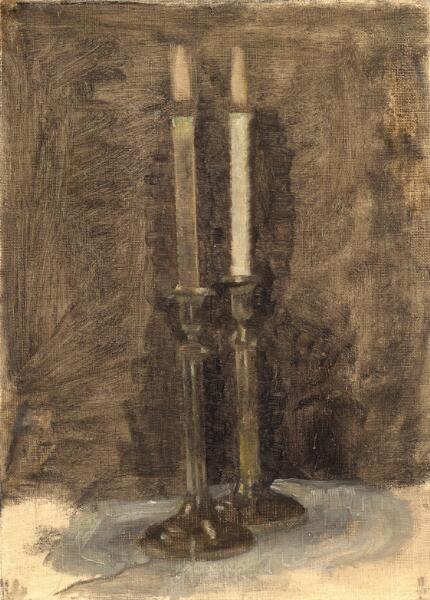 Live Auction
Fine Art
9 June at 4 pm
---