Kasper Nielsen at 50
As head of Bruun Rasmussen's valuation team, Kasper Nielsen is the epitome of professional expertise – both as an art expert on TV, an auctioneer and in his daily management of our many specialists. On 13 April, he turned 50.
For more than a decade, Valuation and Sales Director Kasper Nielsen has been at the head of Bruun Rasmussen's large staff of valuation specialists. It all began in 2003 when he was hired as a generalist within the core business areas of the auction house. Since 2009, he has been part of the senior management of the auction house.
Kasper Nielsen spends most of his days at our branch in Nordhavn, Copenhagen, but he also travels around Denmark and abroad to help with valuations of art objects in private homes. During the four annual Live Auctions in Bredgade, Copenhagen, he takes to the podium as an enthusiastic auctioneer and lets the hammer fall over art, design and antiques.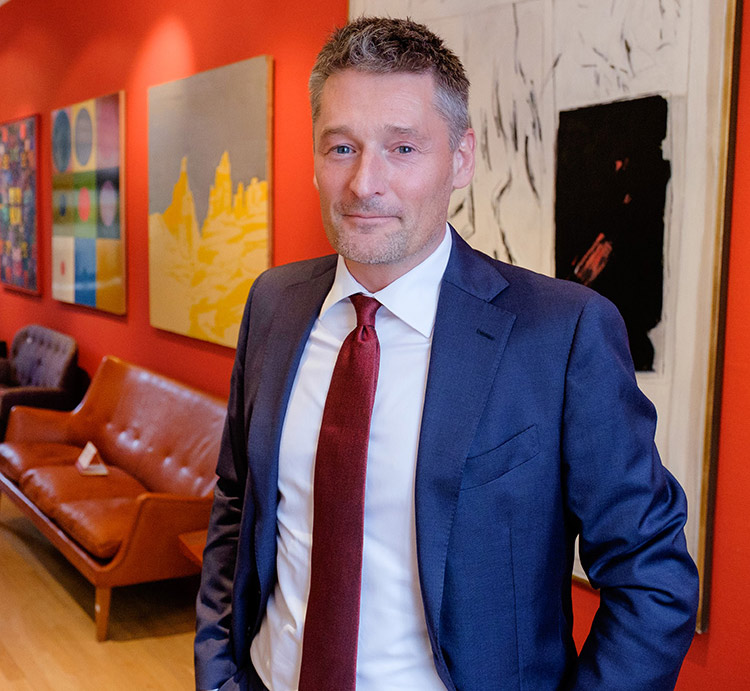 In His Father's Footsteps
As the son of an art and antique dealer, it was almost a given that Kasper Nielsen would eventually settle on a career within the art world. He grew up in Aarhus surrounded by Danish Golden Age paintings, Rococo furniture and antique silver, and he was just a little boy when he attended his first auction.
During his younger years, however, it was not the world of art but football that captivated Kasper Nielsen's imagination. As a skilled goalkeeper in Lyseng and AGF, he dreamed of a career as a professional player, which was followed by a period of officers training in the Danish armed forces. The youthful dreams were eventually shelved, and almost 30 years ago he followed in his father's footsteps when he chose to combine his interest in art with business. From the green football fields and the military exercises, Kasper Nielsen did, however, bring a well-developed strategic sense to his new field of work, which he has also been able to use during his time at Bruun Rasmussen.
Extensive Experience and Broad Knowledge
The early entry into the world of art has today resulted in Kasper Nielsen possessing a broad knowledge of the multifaceted auction industry. Since 1992, he has worked professionally with art at companies such as the auction houses Nellemann & Thomsen, Crafoord Auctions and Ellekilde Auktionshus, just as he during the first many years at Bruun Rasmussen spent a great deal of his time valuating art and antiques. As a senior member of Bruun Rasmussen's valuation team, he has a great deal of insight into the many different categories of art objects that we put under the hammer, and he treats them all with equal enthusiasm – whether they be historical artefacts or highly modern contemporary art.
As Bruun Rasmussen's CEO, Jakob Dupont, says: 
It's hard to imagine any other person in this country having had as many art objects and collector's items between their hands as Kasper Nielsen. That experience is invaluable for an auction house like Bruun Rasmussen – especially when it is combined with Kasper's friendly personality and professionalism.
Art Expert on TV
The vast knowledge of the art world is also expressed through Kasper Nielsen's many appearances as an art expert in newspapers, radio and television. He is known both in his own right and as a representative of Bruun Rasmussen for his excellent ability to convey events, mechanisms and trends in the world of art. Many people know him from DR's (Danish Broadcasting Company) various TV channels, where he for more than 10 years shared his passion for and knowledge of art with the viewers in the popular programme "What's It Worth?". Over the years, he has also participated in programmes such as "The Art Quiz", "Gold on the Estate", "Arbiters of Taste and the Birth of Danish Visual Art" and "On the Threshold of the Modern Age". In 2009 he also hosted the programmes "A Passion for the Skagen Painters" and "A Passion for the Danish Golden Age".
In Private
The interest in art is not only part of Kasper Nielsen's professional life, but also permeates the home that he shares with his girlfriend, Mette Bluhme Rieck, a journalist at DR. Together, the couple are raising their two-year-old son, named Viggo, and from a previous relationship Kasper Nielsen has the children Clara and Otto, 20 and 15 years old respectively. Kasper Nielsen is a true aesthete, and the apartment in the Islands Brygge neighbourhood in Copenhagen is decorated with art and design based on the idea that art objects should be purchased with the heart and not just for investment purposes.
The bookcases in the home show a great interest in the written word as well – not least for non-fiction with a clear preponderance for books on visual and decorative art. With a busy everyday life as the parent to a toddler and a key member of the management of an internationally recognized auction house, the spare time available for reading is, however, scarce, and the personal library is intended for a time in the future, where there will be more time for immersion. Until then, Kasper Nielsen's free time is spent in the couple's summer cottage on the island of Falster, where he enjoys well-cooked meals accompanied by fine wine.
Dear to His Heart
Today, management, strategy and administration are among Kasper Nielsen's core responsibilities, while the development of Bruun Rasmussen's business areas and the skills of the employees is his great passion.
As part of his work, he also often volunteers as an auctioneer when various charities sell art in the service of a worthy cause. Over the past ten years, he has steadily let the hammer fall at LittleBigHelp's annual Charity Gala, which aims to raise money for vulnerable children and women in India. The latest event in November 2019 ended with a record contribution of more than DKK 2.4 million.