Contemporary Art – Between Chaos and Control
As a brand-new initiative, you can now view the works of the Online Auction of contemporary art in our new virtual gallery. Many of the works grapple with some of the greatest contrasts of our time – chaos and control – themes that are more relevant than ever right now.
With more than 120 works in the current auction, we have the pleasure of presenting the largest ever Online Auction of contemporary art. Thematically, the works range from the introvertedly controlled to the explosively chaotic, priced from DKK 2,000 to DKK 300,000 for the most expensive – a large oil painting by Michael Kvium.
Soulful, Controlled and Introverted
Danish artists Cathrine Raben Davidsen and Trine Søndergaard's soulful, introverted and controlled motifs of women are just some of the highlights of the auction. In Søndergaard's "Strude", the introversion is entirely physical: a woman dressed in the traditional "strude" headgear from the Danish island of Fanø, which once protected women from the elements, but which today provides completely new, complex connotations. In Raben Davidsen's pastel and watercolour drawing, an ethereal silhouette of a woman exudes a more introverted vulnerability. But the work is also permeated with dignified strength, emphasised by the figure's profile and the distinctive, textural red.
Explosive Chaos
Trine Boesen's work, "Explosions", stands in stark contrast to Raben Davidsen and Søndergaard's controlled women. The themes of Boesen's explosive collages take on a new and important relevance at this moment in time. The artist's keen eye for worlds that are shattered and out of joint captures precisely what many of us are feeling right now. In the work, various fragments large and small, butterfly wings, iron pipes, lamp posts and key rings are shot indiscriminately into a weightless, infinite space. Everything is totally at the mercy of the uncontrollable, invisible forces behind it, with no way of knowing what will be hardest hit. Conversely, with its artistic neatness and execution, the work also displays great equilibrism and control.
---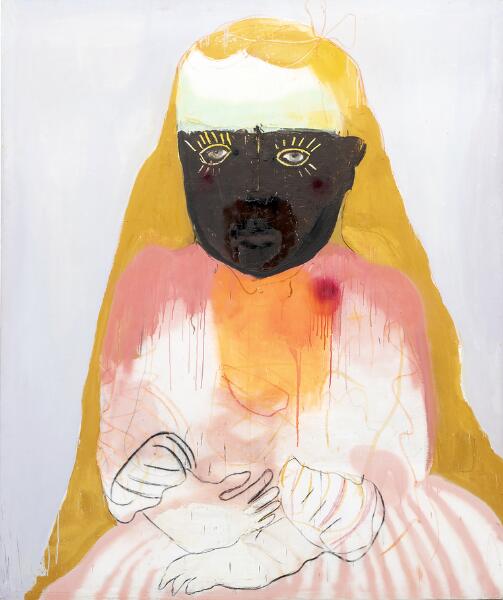 Online Auction
Contemporary Art
24 March at 7 pm
---
Reconciling With History
Artist Nina Klevan's provocative series of photographs, "Potency", is at first glance sombre stuff, articulating the bleak aspects of our shared history, but from a contemporary standpoint. Photos of a baby dressed in the costumes of various dictators, from Idi Amin to Hitler, hang side by side – 10 different ones. The mismatched serial connection between baby and dictator forces us to reflect. Despite what one could be led to believe, the work has not been created in sympathy with the dictators – the artist's own grandfather spent time at a concentration camp. It has been created to articulate our relationship with evil and inspire discussion on topics such as whether evil is innate. By dressing the innocent baby – the artist's own daughter incidentally – in these costumes, Klevan exhibits the dictators' staged malice and ridiculousness. An attempt to reconcile the terrible chaos of history and take back control with an artistic (humorous) grip.
Invitation to a Virtual Tour
As mentioned above, you can visit our new virtual gallery, which we are opening for this auction. Here, you will be able to view just under 40 of the works up for auction. You are also welcome to visit our regular previews in Copenhagen's Nordhavn and in Aarhus – naturally, we are not letting more people in than is safe at this time. If you are unable to visit us during the preview, our experts will endeavour to provide a live virtual tour of the preview in Nordhavn – follow us on Facebook and Instagram for more information.