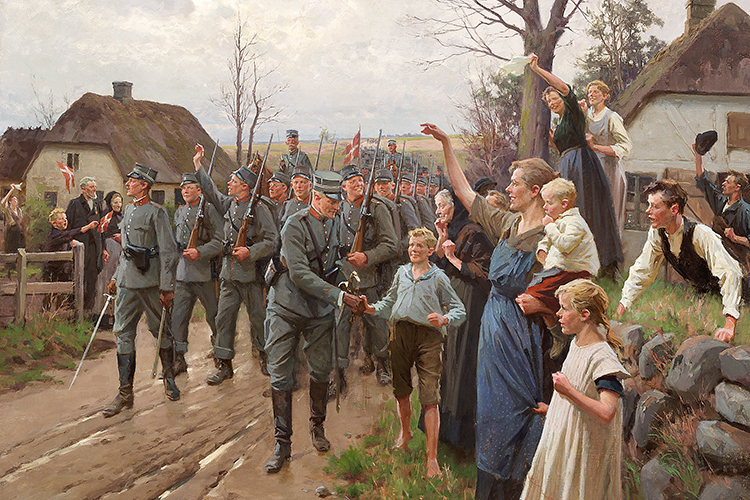 Erik Henningsen: "Danske Soldater gaaer over Dybbøl Torsdagen den 6te Maj 1920" (Danish soldiers crossing Dybbøl on Thursday 6 May 1920). Hammer price: DKK 70,000.
Themed auction: The 100th anniversary of the Reunification
This year, it is precisely 100 years since the reunification of Denmark and the former Danish territories in Northern Schleswig. We will be marking the event with a major online auction in June and are currently on the lookout for items for the auction.
After its defeat in the Second Schleswig War in 1864, Denmark lost the duchies of Holstein, Lauenburg and Schleswig. For the next 56 years, they remained under Prussian rule. However, following the defeat of Germany in World War I, it was decided during the peace negotiations at Versailles that the citizens of the former Danish territories in Schleswig could decide for themselves which country they wished to belong to. Local referendums were therefore held, resulting in Northern Schleswig becoming Danish again, while Southern Schleswig remained German. 
Auction in June – What are we looking for?
Reunification Day itself took place on 15 June, and what could be more fitting than to mark it with an online auction of items relating to this joyous occasion almost 100 years ago? The auction will take place on the same date, Monday 15 June at 7 pm, here at bruun-rasmussen.dk, and will be marketed via our newsletters, the press and social media.  
For the themed auction, we are primarily looking for items relating to the Reunification in 1920 and items from Southern Jutland from the period 1864–1920. This might include fine art, weapons, silver, coins, medals, banknotes, stamps, postcards, letters, signs and other memorabilia. 
If you are in possession of this type of item and are considering selling it at auction, you are welcome to visit us at one of our departments, where we are on hand every day to give you a free, no-obligation valuation. See addresses and opening hours (link). You can also use our valuation service here at bruun-rasmussen.dk.
---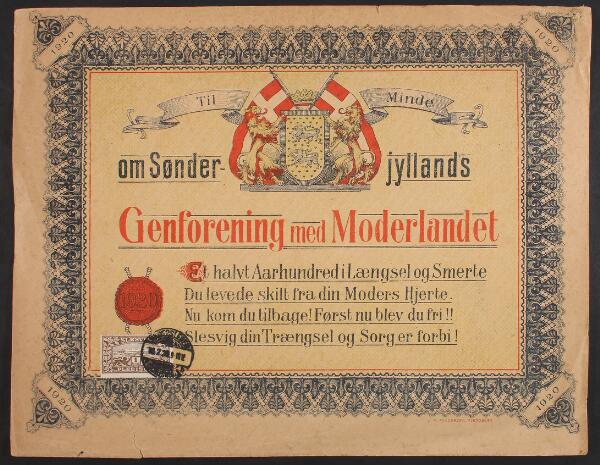 ---