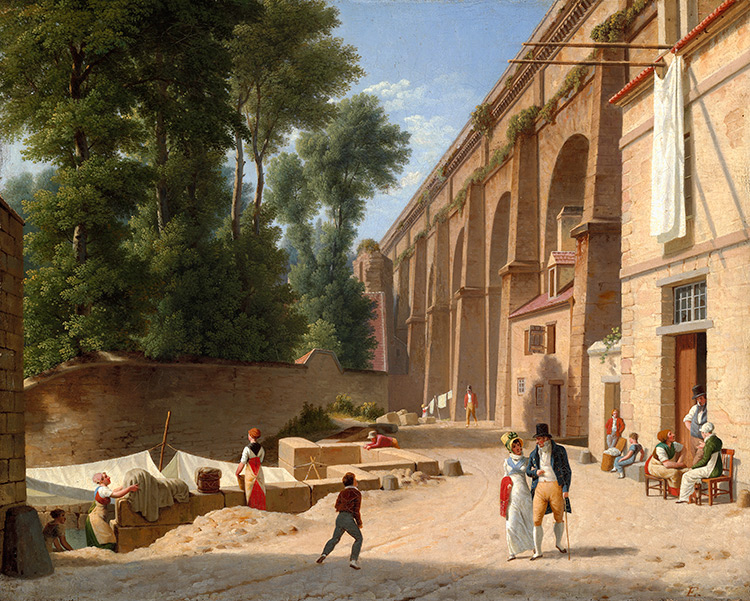 Hammer Prices and Museum Purchases
The year's first Live Auction in Copenhagen concluded with a string of record hammer prices and no less than 11 museum purchases.
The David Collection Buys Painting by Christoffer Wilhelm Eckersberg
The highlight of the auction was a view of Paris entitled "Akvædukten i Arcueil" (The Aqueduct in Arcueil), which the Danish Golden Age painter Christoffer Wilhelm Eckersberg created in 1812 while he was living in the city as part of a longer trip abroad. He only painted a handful of oil paintings during his stay in the French capital, and the masterpiece was sold for a hammer price of DKK 5.6 million (€ 975,000 including buyer's premium) – a world record for a work by the artist. The byer was The David Collection in Copenhagen, and the museum now has two Parisian works by Eckersberg in its collection:
"With the acquirement of Eckersberg's "Akvædukten i Arcueil" we can pair up the work with its counterpart "Udgangen af Bois-de-Boulogne til Longchamp" (Exit from Bois-de-Boulogne to Longchamp) from the same year. The new work fits well into the museum's small, but exquisite representation of Danish Golden Age art, as well as the collection of French paintings, furniture art and porcelain from the 18th century". 

Kjeld von Folsach, Museum Director at The David Collection.
Record Prices on a Large Copal and Precious Sapphires
One of the auction's odder artefacts was an enormous copal, which one cold December day was caught by three fishermen from Northern Jutland, while they were out fishing for Norwegian lobsters on the Skagerrak strait. The copal is made by resin and is considered to be an early stage of amber. With a weight of more than 38 kilos, the auction's copal was a bit of a rare sight, and it was also sold for a fine hammer price of DKK 135,000 (€ 23,500 including buyer's premium). A long-term investment, considering that it takes a copal 15-20 million years to turn into actual amber. 
At the jewellery auction, a sapphire and diamond ring from Tiffany & Co., one of the world's leading jewellers, took everyone by surprise. The beautiful ring has been owned by Edith Pulitzer, the daughter of the famous Hungarian American journalist and newspaper publisher Joseph Pulitzer. The ring was made in 1910 and after a fierce bidding battle in the saleroom, it was sold for a hammer price of DKK 730,000 (€ 127,000 including buyer's premium and more than 14 times the original estimate), which makes it the most expensive ring we have ever sold at Bruun Rasmussen.
Modern Art Worth Millions
Art from the 20th and 21st century has been part of our auctions for a long time, and at this auction we achieved two hammer prices exceeding one million Danish kroner. The first was for the painting "Siddende Danserinde med Hovedet støttet paa Haanden" (Seated dancer with head resting on hand) from 1919 by the classical Danish modernist Harald Giersing, which was sold for DKK 1.7 million (296,000 including buyer's premium). The other hammer price above a million kroner was achieved by one of the Danish artist Per Kirkeby's highly sought-after paintings from the island of Læsø, and here the buyer payed DKK 1.3 million (€ 226,000 including buyer's premium). One of the great surprises within this category was the North Jutland artist Poul Anker Bech and his two enigmatic works "Golfdrømme en vinternat" (Golf Dreams on a Winter's Night) from 1994 and "En drift mod havet" (An Urge for the Sea) from 2007, which sits somewhere between realism and surrealism and achieved a world record with DKK 300,000 (€ 52,000 including buyer's premium) each. 
Iconic Design Furniture and a Danish Test Piece
Finn Juhl, Børge Mogensen and Poul Kjærholm are always highly sought after at our design auctions in Copenhagen. This time they were all part of the proceedings, and the festivities were even kicked up a notch when a rare bean-shaped coffee table was presented. It was designed by Finn Juhl for cabinetmaker Niels Vodder's exhibition stand at the "Cabinetmakers' Guild Exhibition" in 1949. Designmuseum Danmark had set their eyes on this museum piece and could carry it the few hundred meters down the street to their museum for a hammer price of DKK 370,000 (€ 64,400 including buyer's premium). Up for auction was also a test piece by the auction debutant cabinetmaker Kristian Rosendahl Strunge. His beautiful sideboard, which was inspired by the organic approach to design of the Danish masters Peder Moos and Finn Juhl, achieved a great hammer price of DKK 62,000 (€ 10,800 including buyer's premium).
More Artwork for the Museums
The auctions in Copenhagen often result in museum purchases, and The David Collection and Designmuseum Danmark were not the only ones on the lookout for new treasures for their collections. No less than 11 works were bought by Danish and international museums at this auction. The Skovgaard Museum in Viborg bought a coastal motif by P.C. Skovgaard and a portrait of Joakim Skovgaard by August Tørsleff. Ribe Art Museum took home the prize in two bidding rounds with a self-portrait by Viggo Johansen and an interior by Michael Ancher. Among the museums on Zealand, the Øregaard Museum in Hellerup was also represented, and they can now add a fine still life by Johan Rohde to their collection. We congratulate all the museums with their newly acquired art! 
---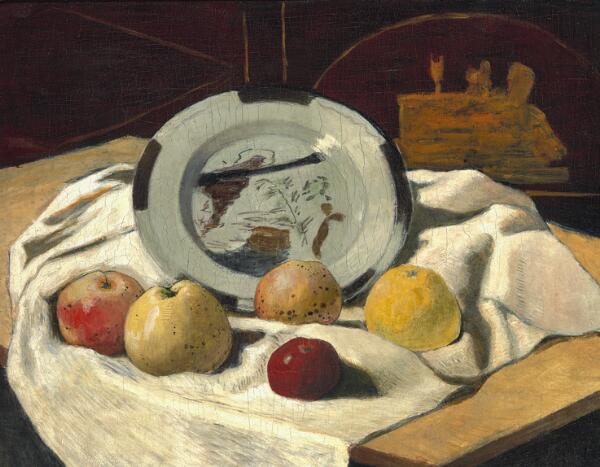 ---
We would like to thank everyone who followed our first Live Auction of the year. We will open the doors for a new Live Auction in June. In the meantime, you can find a wide selection of art, design and antiques at the auction on our website – both at our Online Auctions and our Direct Auctions.