Pre-Columbian Art from a Danish Collector
We journey more than a thousand years back in time with a series of decorative art objects from vanished civilisations in Latin America.
The many vases, jars and figures originate from a collection owned by Dan Sadolin (1914-2000), former Director of Denmark's oldest paint and lacquer factory, Sadolin & Holmblad. 
From 1951 to 1954, Dan Sadolin lived in Peru with his wife, Bodil, where his job was to establish a foothold for the business on the Latin American market. During his stay, he invested in historical everyday items on the markets and in galleries. Some of these impressive and interesting pieces have now found their way to the year's first Live Auction in Copenhagen and will be sold on Wednesday 26 February.  
The Colourful Nazca Culture
At the auction, you can find pieces such as a group of colourful ceramic works that originate from the Nazca civilisation – a people that existed in the Southwestern part of Peru from approx. 200 BC to 650 AD and had highly developed traditions in the production of textile and ceramic art.
Long before the arrival of the Europeans in 1492, several civilisations were flourishing in North and South America. Each of these cultures developed their own distinct idioms, where especially the Nazca people's work stands out today. With their strong colours and decorative designs, the ceramics from the Nazcas are among the most characteristic art objects produced during antiquity. By mixing water with mineral pigments such as manganese and ferric oxide they were able to develop 12 different nuances, which were used to decorate the hand-shaped clay.
The different works were intended for rituals, and among the offered Nazca pieces, one finds a jar decorated with the so-called "trophy heads". These decorative heads were inspired by the peoples' tradition of cutting off the heads of bodies and carrying them as trophies. The staring eyes are also typical of the Nazca style and is believed to depict a drug induced trance.
Diverse Cultures
The pre-Columbian civilisations not only made ceramics and textiles, they also experimented with their artistic style by incorporating materials such as jade, feathers, gold and silver. The collection in question is an amazing example of the diversity in the pre-Columbian civilisations and provides an exciting view of several of the lost cultures' beliefs and traditions.
---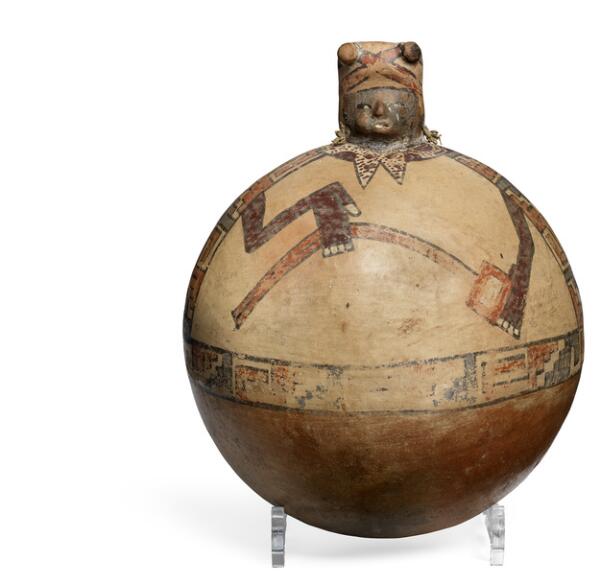 Live Auction
Dan Sadolin's Collection
26 February at 2 pm
---
Online Auction with Pre-Columbian Art
We can also offer part of Dan Sadolin's amazing collection at an Online Auction, where we present pre-Columbian ceramics, jewellery and much more. You can bid on these items right now – and the virtual hammer will begin to fall on Monday 24 February from 8 pm. 
---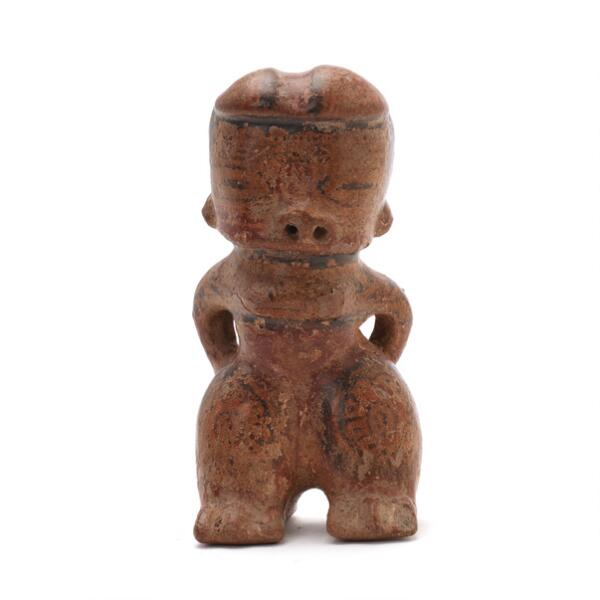 Online Auction
Pre-Columbian Art
24 February at 8 pm
---