Hammer Prices and Museum Purchases
The final Live Auction of the year resulted in several impressive hammer prices and interesting museum purchases.
We greeted the holiday season with two weeks of auctions in the traditional saleroom in Copenhagen. Bidders from all over the world could bid on more than 1,600 auction lots across the categories of art, design, antiques, jewellery and wristwatches.
A Masterpiece by Vilhelm Hammershøi
The most notable hammer price of the auction was achieved by Vilhelm Hammershøi's work "Interior, Strandgade 30" (1900). At a price of DKK 31.5 million, the work is not only the highest hammer price achieved in the history of the auction house but also the highest hammer price ever achieved in Denmark. With the depiction of a characteristically stark room, the almost magical flow of light and the introverted female figure, the work is indeed quintessential Hammershøi and is from the period when the artist was at his greatest artistic level.
Three other works by Vilhelm Hammershøi also stood out at the auction: "Female Nude. Standing. In Profile Towards Right" (1886) with a hammer price of DKK 4.3 million; a portrait of the artist's brother, Svend Hammershøi, with a hammer price of DKK 900,000 and an academy drawing with a hammer price of DKK 650,000.
Historical Seats by Kaare Klint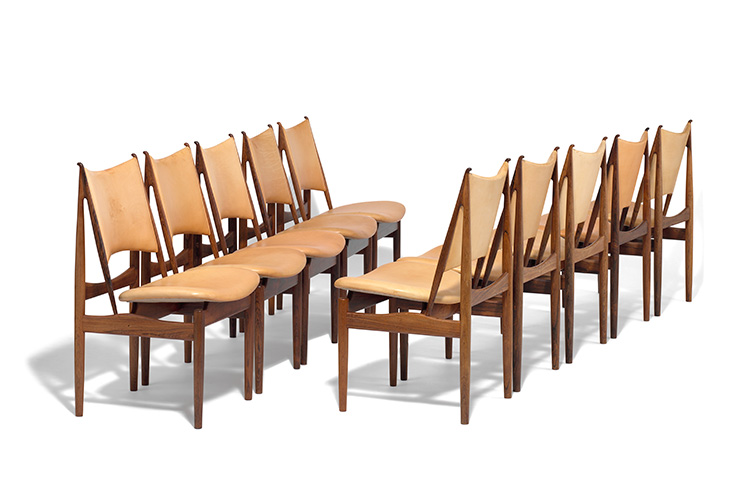 Danish design has long been sought after by international collectors. This time it was a unique set of furniture pieces by the "Father of Modern Danish Furniture Design", Kaare Klint, which led the auction with a combined hammer price of DKK 1.8 million. Particularly three oak burl armchairs drew a lot of attention on their way to a hammer price of DKK 700,000. The set of furniture, which consists of the three chairs, a sofa, a games table, two bookshelves and a tray table, was designed by a young Kaare Klint in 1916 and is among the earliest works by the furniture designer.
A rare set of "Egyptian Chairs" by Finn Juhl also got the bidders out of their seats. The set of 10 chairs, which in their design were inspired by the ancient Egyptian chairs from Louvre's collection, achieved a hammer price of DKK 650,000.
The Best of Danish Modernism
Danish Modernism, which in the years around the First World War broke with the previous art traditions here in Denmark, had a field day at the auction. The highest hammer price came with Kai Nielsen's "The Aarhus Girl" from 1921, which was sold for DKK 1.6 million to a buyer in the sculpture's hometown of Aarhus, Jutland. Vilhelm Lundstrøm's cubist still life with a comport, pitcher and napkin made a splash with a hammer price of DKK 1 million. J.F. Willumsen's characteristically stylized and symbolic portrayal of an evening meal with the Willumsen family went for a hammer price of DKK 700,000. At the same time a work by one of Denmark's most eminent names within modern art, Per Kirkeby, was sold for DKK 900,000 against an estimate of DKK 300,000.
Coveted Diamonds and Wristwatches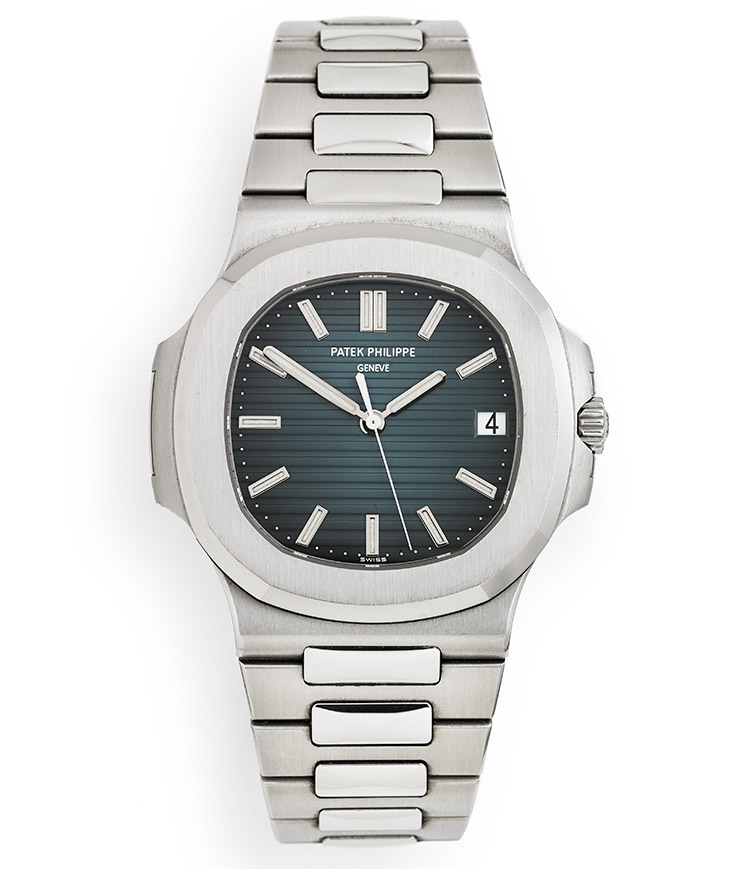 The auction also offered exclusive jewellery and wristwatches from internationally renowned brands. Among the jewellery was a rare "fancy purplish pink" diamond ring that went all the way to a hammer price of DKK 620,000. The flashy, pink diamond originates from the Argyle mine in Australia and is incredibly rare. Due to the mine's planned closure in 2020, there is a prospect of an even greater increase in price on these exclusive pink diamonds.
On the men's side, it was the coveted Patek Philippe "Nautilus" wristwatch that caught the bidders' attention – and for good reason. The waiting list is long in the shops for this model, and only about three people a year in Denmark get the opportunity to acquire this iconic wristwatch. It was won by its new owner with a hammer price of DKK 330,000.
Russian Art and Decorative Art
The first week of the auction concluded with Russian art and decorative art. Here it was a Russian icon with a depiction of the holy martyr Paraskeva that led the flock of art objects with a hammer price of DKK 650,000. A portrait of a young girl painted by artist Alexei Alexeievich Harlamoff, who is known for his realistic depictions of everyday life for poor children, followed suit with a hammer price of DKK 520,000.
New Works for the Museums
The Danish museums often buy art at our auctions, and this time was no exception. The Marstal Maritime Museum was able to emerge victorious from a bidding war over the painting "A Frigate on the High Seas" (1885) by I.E.C. Rasmussen with a hammer price of DKK 75,000. The painting "Village Road with a Man Walking. Winter" (1887) by L.A. Ring can now look forward to a future at the Ordrupgaard art museum. Finally, Designmuseum Denmark can add another piece of Danish design history to their collection with the purchase of a rare easy chair designed by Finn Juhl.
You can view the full list of recent museum purchases here
Valuation and Consignment for Auction
We are already now looking for art, design, antiques, jewellery and wristwatches for next year's Live Auction in Copenhagen. If you have art objects that you are considering selling at auction, we would love to hear from you. You can always contact our valuation specialists for a free and non-binding valuation – either in person at our Copenhagen or Aarhus location or via our online valuation service.
View upcoming consignment deadlines here.