Vilhelm Hammershøi – Interior from Strandgade 30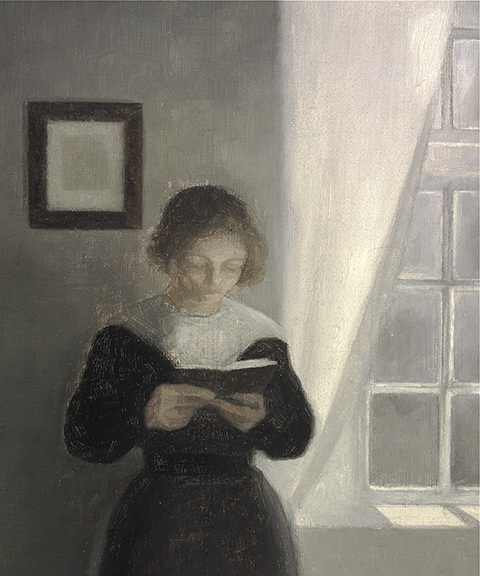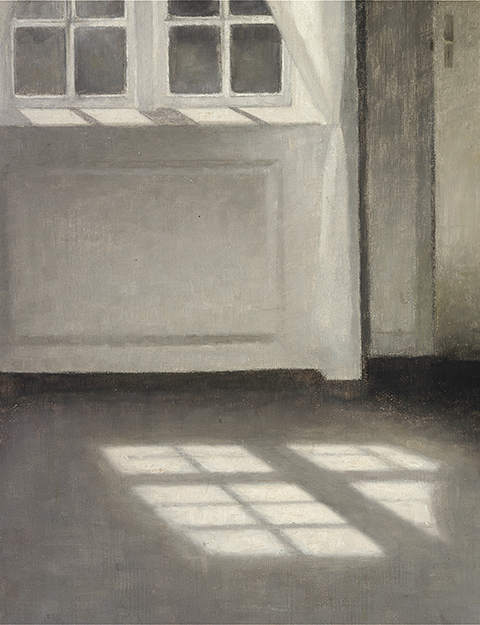 4 images
At our Live Auction this coming November, we can present an interior painting by the Danish artist Vilhelm Hammershøi (1864-1916) from Strandgade 30, where his wife Ida is standing next to a window. The artist is at his most quintessential in the paintings that depict this apartment at Strandgade 30 in Christianshavn, in the heart of Copenhagen, where he lived with his wife Ida from 1898 to 1908. The two were engaged in 1890, and she was the model in many of his paintings. Art became a shared project for them, and they were mutually dependent on each other.
A Space for Reflection
Hammershøi has few equals when it comes to painting enigmatic and atmospheric spaces. These interiors have made him the most sought-after Danish artist on the international art market. The painting from Strandgade 30 that is up for auction is a masterful example of his abilities. Ida stands alone in an empty room, which is very characteristic for Hammershøi, with a beautifully profiled door and panels, plastered ceilings and paned windows, through which the light falls and is reflected on the floor. Hammershøi uses countless shades of white, grey and brown to create a space with a distinctly timeless metaphysical feel to it – a unique Hammershøi atmosphere.
"Why do I use so few and muted colours? Frankly, I don't know. It's quite impossible for me to say anything on the matter. It feels natural to me. In purely colouristic terms, I absolutely believe that a painting works best the fewer colours are used in it." (Vilhelm Hammershøi in an interview in the journal Hver 8. Dag (Every 8th Day) in 1907)
It is during his years in Christianshavn (1898-1908) that Hammershøi achieves a breakthrough as a painter of interiors. The interiors are never direct representations of his surroundings, but rather subjective interpretations of the space that is always staged by himself. The conscious staging, in conjunction with the almost abstract aesthetic beauty and clear musical qualities of the created space, makes him a key figure of Danish symbolism.
"I have mostly painted interiors (...) How did I end up doing this? (…) It's difficult to say. It just happened. And it is fashionable right now, everyone wants interiors, they hardly want anything else. When I paint a landscape, I usually can't sell it." (Vilhelm Hammershøi in an interview in the journal Hver 8. Dag (Every 8th Day) in 1907)
The Artist Behind the Interior
Vilhelm Hammershøi was a controversial painter, and many of his contemporary Danes did not understand his art. He had several works rejected from the official exhibitions at Charlottenborg, but today he is one of the most sought-after artists. His works are on display at museums all over the world, including the National Gallery of Denmark, The Hirschsprung Collection, The David Collection and Ordrupgaard Museum in Denmark as well as Musée d'Orsay in Paris, The National Museum of Western Art in Tokyo, The Metropolitan Museum of Art in New York, Hamburger Kunsthalle and Tate in London.
Hammershøi began studying painting already at the age of eight. At the age of fourteen, he was admitted to the Royal Danish Academy of Fine Arts in Copenhagen, where he received his formal education from 1879-84. Following this, he studied under P.S. Krøyer at Kunstnernes Frie Studieskoler (The Free School of Study for Artists) from 1883-85.
 "I have a student who paints quite peculiarly. I do not understand him, believe that he will become significant, am trying not to influence him." P.S. Krøyer 1885.
An International Perspective
Hammershøi's rare talent earned him great international acclaim even during his own lifetime. His artwork captivated important cultural figures of the time such as Auguste Renoir, Théodore Duret, Rainer Maria Rilke and others.
He was an elusive, reflective and taciturn character who did not share with others which artists inspired him. However, Hammershøi's first trip abroad to Holland and Belgium in 1887 was undoubtedly due to his interest in Dutch painters such as Jan Vermeer van Delft (1632-1675), whose paintings are characterised by a similar approach to framing, overlaps, empty spaces and a restrained colour palette. The interiors of Pieter de Hooch (1629-1684) with their open doors, where you can see from room to room, and Pieter Saenredam's (1597-1665) clear and harmonious reproductions of buildings, have also served as inspiration for Hammershøi. The works of the American painter James McNeill Whistler (1834-1903) have likewise been of importance to Hammershøi.
Furthermore, the growth and proliferation of the photographic medium and its influence on the perception of light, framing, motifs etc. played a colossal role in Hammershøi's art.
Viewings in Denmark and Abroad
The offered painting by Vilhelm Hammershøi will be on view at selected galleries in Denmark and abroad during the autumn. The currently planned viewings include:
19-21 September: Exclusive viewing at Studio Oliver Gustav in Museumsbygningen at Kastelsvej 18 in Copenhagen.

3-4 October: Viewing at Dickinson Gallery in London in connection with Frieze Masters.

1-2 November: Viewing at Dickinson Gallery in New York in connection with TEFAF Fall.
Preview and Auction in Copenhagen
Auction: 26 November at Bruun Rasmussen Fine Art Auctioneers, Bredgade 33, Copenhagen
Preview: 21-25 November or by special appointment at the above address