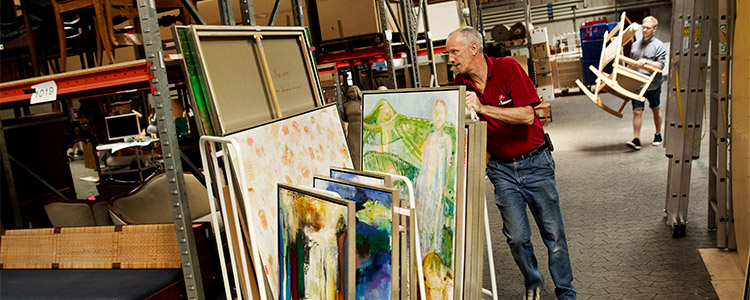 Moving Day for Bruun Rasmussen's Warehouse
On 23 August, we will open the doors to a larger and more modern warehouse at Paul Bergsøes Vej 16 in Glostrup.
Welcome to Paul Bergsøes Vej
We look forward to welcoming you inside our new and upgraded warehouse facilities, where you will be able to experience the same dedicated service we strive to provide in the rest of the auction house. On this page, you can follow the opening of the new warehouse's different functions.
Closing of Warehouse on Baltikavej 10
If you have auction purchases stored at our current warehouse on Baltikavej 10 in Nordhavn, these must be picked up no later than Thursday 19 August, if you want to avoid an extra transportation fee to Paul Bergsøes Vej 16 in Glostrup. Please note that for wine lots this deadline has been extended to Thursday 21 October, and that wine lots can be picked up from the new warehouse from Monday 25 October.
If you cannot pick up your auction purchases yourself, it is possible to request a transportation offer on the website bruun-rasmussen.dk via your personal profile.
Please note: It will not be possible to pick up auction purchases in either warehouse from 20-22 August, while we move the contents of the warehouse from Baltikavej 10 to Paul Bergsøes Vej 16.
If you have any questions, you are welcome to contact us on tel.: +45 8818 1010 or send an e-mail to: kundeservice@bruun-rasmussen.dk