A selection of lots from the auction. The photo was taken at one of Copenhagen's most beautiful, historic locations – The Lindencrone Mansion in Bredgade 26, which was built in limestone from Stevns during the years 1751-1754 by the court's master builder Nicolai Eigtved. In 1898, Queen Victoria of England bought the building, and it was British-owned and functioned as, among other things, an embassy until 1980. Today, it is owned by the Danish fashion company Bestseller A/S.
Selected: Join Us on a Magnificent Journey!
At the upcoming Selected auction on Monday 21 June at 6 pm, we can present travel trunks, furniture, chandeliers and many other antiques from all over the world. View the selection here on the website or come by our location in Nordhavn, Copenhagen, where everything is on display until the auction day.
Pack Your Suitcase with Louis Vuitton
We are visiting all corners of the world at the auction, and considering this theme, what could be more appropriate than taking a closer look at the auction's two travel trunks from Louis Vuitton? The company was founded in the mid-19th century by the Frenchman Louis Vuitton Malletier, who already at the age of 16 began his career as a luggage maker. This was the beginning of a great international business empire, and Louis Vuitton's handbags continue to be the epitome of luxury.
At this auction, you have the opportunity to become the owner of two travel trunks from approx. 1910-20. One trunk "Malle cuir pour hommes" has been owned by Elise Meyer De Souza Dantas, who lived in San Francisco and was married to the Brazilian diplomat Luis Martins de Souza Dantas. He is known for his role in helping Jews flee France during the Holocaust. The provenance of the second trunk is also interesting, as the crowned monogram "I.W." confirms that it was owned by Count Julius Carl Hannibal Wedell-Wedellsborg. The trunk was later found in an attic in a private home in Husby on West Funen, where Wedellsborg Castle is located.
Swedish Rococo, American Chippendale and the Mysteries of the East
True French elegance can also be found in a French Louis XVI gilt bronze and white marble mantel clock from the late 18th century. From more northern latitudes, you get some great examples of  Scandinavian craftsmanship with a set of four Swedish Rococo chairs in yellow-painted wood and with the finest floral upholstery. If the interest is more towards the east, we recommend a Baltic late Empire crystal and emerald-green glass chandelier with eight candle holders from the first half of the 19th century. From Europe, we voyage across the Atlantic with an American mahogany and cherry wood chest in Chippendale style from 18th-century Boston, and from there we move on to the mysteries of Asia with a richly carved and solid door from an Indian temple.
Enjoy the journey!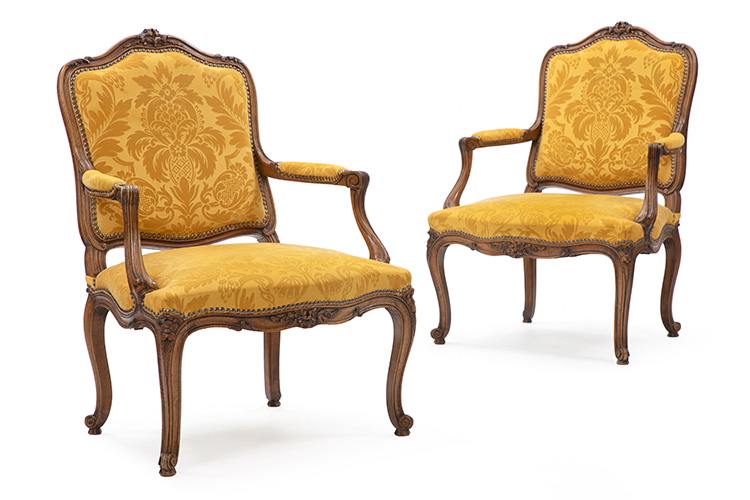 Online Auction
Selected
Monday 21 June at 6 pm