Optical Illusions Made with Paper, Brush and Ceramics
Optical illusions, ceramic mimicry and landscape art cut in paper all pop out as highlights among the selection of contemporary art at our Online Auction, which takes place on 15 June and includes works by names such as Peter Callesen, HuskMitNavn and Rose Eken.
A Cascading Stream of Paper
The viewer is both seduced and fascinated by the Danish contemporary artist Peter Callesen's carved and cut paper art. With exceptional ingenuity and artistry, he creates three-dimensional art and magical landscapes out of ordinary flat A4 white paper. At the Online Auction on 15 June, you can now get your hands on the dramatic landscape work entitled "Water always Finds its Way", which comes from publisher Jarl Borgen's extensive art collection. Here, a cascading stream of paper falls out over an edge, forming a small magical pond at the bottom of the wooden frame. Callesen's art invites you to closely study the details and the play with the illusion. It is an optical illusion, an inverted tromp l'oeil work in which one marvels at the balancing act between illusion and reality – in Callesen's hands, the flat, white paper proves to have unlimited artistic possibilities.
Cartoon Tromp l'oeil
Trump l'oeil, which means to 'deceive the eye' in French, also plays artistic tricks with us in a string of other works at this auction. The technique dates back to the 16th century when the art of painting was used to create space and depth on surfaces so that one was fooled into believing that it was part of reality – the greatest achievement within this genre was to fool the king and his court. In HuskMitNavn's untitled oil painting, we are also tricked into believing that a pair of father and son cartoon characters have built a fort out of a real cardboard box with cut-out holes for a door and window. Like Callesen, HuskMitNavn often conjures his drawn figures out of paper by tearing and cutting in the material. In the work here, however, the cardboard box is not cut out, but instead actually painted in oil on the canvas and only resembles a cut-out. It is cartoon trump l'oeil at its best.
Ceramic Mimicry
Rose Eken's ceramic mimicry also plays tricks on our perception of reality and not least the thousands of everyday objects we all surround ourselves with. At this auction, you can get your hands on Eken's solid, ceramic life-size art in the shape of an orange magnum sharpie in clay with the accompanying book "Artefacts" – which is printed on real paper. In Eken's hands, everyday objects receive a renewed, loving attention, so that a sense of nostalgia is clearly felt, and reminds us that the everyday objects around us are full of memories and experiences.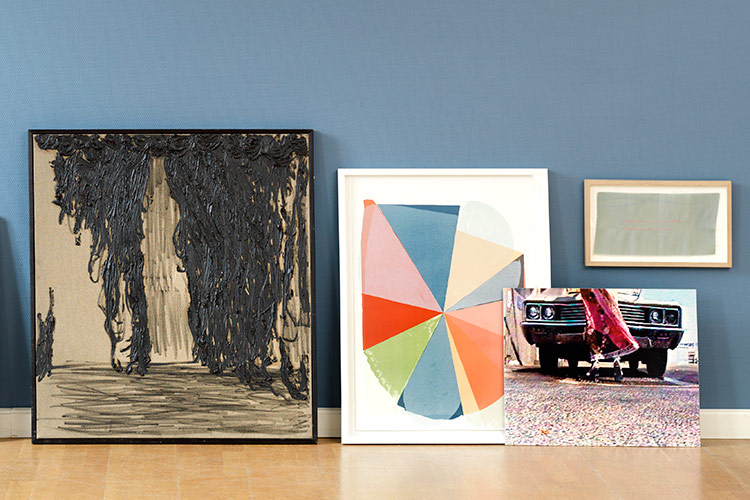 Online Auction
Contemporary art
Tuesday 15 June at 7 pm (CEST)