Bruun Rasmussen Live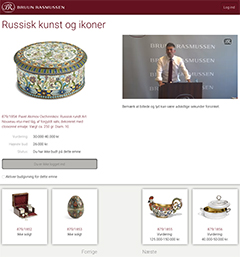 Feel the atmosphere in the auction room
If you are unable to attend the Live Auctions at Bredgade in person, you can now follow an auction in progress and experience the atmosphere in the auction room via a live transmission – just as if you were there. Just before the auction begins, you will be able to see the "Live Follow the auction" link in the auction calendar at the home page. From here, you can follow the bidding and the auctioneer during the auction.
Bid via Bruun Rasmussen Live
Click on the "Live Follow the auction" link in the auction calendar

Log in with your customer number and password

Tick "Enable bidding on this lot"

Submit your bid
The bidding process
Your bid will be treated in the same way as the other bids submitted by those present in the room. If you are outbid or your bid is successful, this will appear on the screen. If your bid is successful, you will be required to pay the standard costs which apply, in accordance to our conditions of purchase. We accept no liability for bids lost as a result of technical problems.
If you require technical assistance, you are welcome to contact our IT support team on tel. +45 8818 1114 or e-mail: support@bruun-rasmussen.dk. Please note that we are also on hand during the auctions to deal with any technical issues.