Prince Henrik's Collection at Auction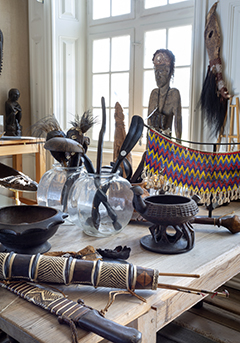 2 images
Prince Henrik's collection of African objects and Asian jades contains more than 6,000 items. At Bruun Rasmussen, our experienced specialists in these areas look forward to cataloguing this spectacular collection. In August, we will be ready to begin the sale of the Prince's collection. Some of the objects have previously been exhibited at the Koldinghus Museum in 2017 and at Gallery Gammel Holtegaard and the art museum in Silkeborg in 2009.
A Passionate Collector
Prince Henrik was a passionate and dedicated collector, and the lifelong interest in African and Asian culture was established at an early age. The Prince's upbringing in French Indochina helped spark his curiosity for Asian jades, and during his studies, he was introduced to traditional African objects and became interested in the continent's history. Many of the objects in the collection were acquired by the Prince during travels in these parts of the world.
The Decision on an Auction Sale
In connection with the settlement of the estate after Prince Henrik passed away, it has been decided that the sale of the collections is in accordance with the Prince's will. The heirs have selected a number of items from the collection that they want to keep, and they have decided that there will still be a collection of jades and African objects on display at Château de Cayx in France. Part of the proceeds from the auction will go to the two royal foundations, the Crown Prince Couple's Foundation and the Nikolai & Felix Foundation.
As our cataloguing work progresses, we will publish a more detailed presentation of Prince Henrik's collection on our website, which you can visit for updates or sign up to our general newsletter if you prefer to have the news sent directly to your inbox.