On the Lookout for Works by L.A. Ring!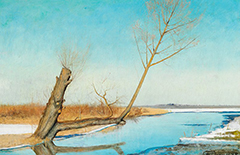 2 images
Alongside Ordrupgaard and their current exhibition "L.A. Ring. Between Light and Darkness" we focus on one of the Modern Breakthrough's greatest painters at our upcoming auction in Bredgade. If you have works by L.A. Ring (1854-1933), which you are considering selling at auction, then you are more than welcome to contact us.
About Ring
Among L.A. Ring's favourite subjects is the landscape from the area near his birthplace on southern Zealand – both the barren winter landscape and the emerging spring landscape – and not least empathetic depictions of the region's rural population. The works of L.A. Ring are often situated between realism and symbolism and between tradition and modernity. It is as if his otherwise realistic portrayals always contain another layer of something unspoken, and perhaps that is why his works are still seen as topical and have the power to fascinate today.
We look forward to seeing you - either at one of our departments or at Ordrupgaard!