The Road to Wegner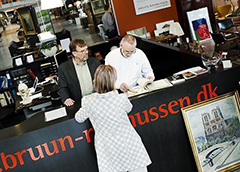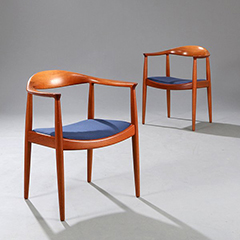 4 images
Peter Tholstrup has literally worked his way up from the bottom of the auction business. In 1989 he was hired by the auction house Nelleman & Thomsen to sweep the floor and assemble cardboard boxes. After a few years, the owner and auctioneer asked Tholstrup about his ambitions. He was quick to reply: "Well, I would like to stand where you stand as the auctioneer." The goal came to fruition, and over the following ten years with regular weekly auctions Tholstrup swung the hammer over more than 100,000 items. "I have had very different things under the hammer. Everything from bicycles, a police horse and a fishing boat in Grenå harbour to a bankrupt bakery in Odense, the cargo of a Russian cigarette-smuggling ship and of course a vast array of art, design, porcelain and other classic auction items," Peter says and continues:
"Fifteen years ago I received an offer from Bruun Rasmussen, which I could not turn down, because the job allowed me to focus more clearly on Danish design furniture. This had long been my great passion, especially Hans J. Wegner's furniture. The job as an auctioneer had sent many of Wegner's furniture pieces in my direction, and I began to register them in a large catalogue, which has become a life-long project for me."
International Reputation
"It is, among other things, the international reputation surrounding Danish design, which makes it an exciting field to work with. This reputation has its roots in the years around 1950, where international contacts were established via Finn Juhl's project for the United Nations building in New York. Several other Danish designers were subsequently able to establish their names in the United States. It was a huge export adventure for Denmark, which reached its peak around 1960, where there were more than 500 members of the Association of Danish Furniture Industries. I remember that my own small hometown of Hornslet had no less than three furniture factories. "
"Hans J. Wegner's most famous chair is of course "The Chair", which also received a good marketing boost in the US due to its use in the John F. Kennedy and Richard Nixon presidential TV debate in 1960. But Wegner also has a penchant for folding chairs, which we saw an example of with the rare "Dolphin" chair that was up for auction at Bruun Rasmussen this June. When the lot number came up, the saleroom went silent, and the chair was subsequently sold for DKK 320,000. When we achieve these kinds of prices on the Danish furniture classics, it is because they are unique pieces of furniture, which were only produced in one or very few copies. At the same time, they were made with a very high quality of craftsmanship that has characterized the work of Danish cabinetmakers for the past 150 years."
Hans J. Wegner as a Collector's Item
"What fascinates me about Wegner is his high standards. The furniture has to work both decoratively and functionally. Wegner, who was trained as a cabinetmaker, worked closely with carpenters in the workshops when new models were put into production, and the quality was never compromised. During the 1950s and 1960s there was, besides cabinetmaker Johannes Hansen, five furniture factories exclusively producing Wegner furniture. When Wegner in connection with a visit to the United States in 1953 was invited to produce "The Chair" in the United States faster and cheaper, he rejected the offer with the following statement: "The chair was designed in Denmark, for Danish cabinetmakers to make, and it should only be made in Denmark". Fortunately, Wegner's daughters Marianne and Eva have honoured this decision, and today more than 100 different Wegner models are still produced exclusively in Denmark."
"Wegner awoke my own passion as a collector, and at one point I owned more than 50 pieces of his furniture. Unfortunately, one cannot store Wegner furniture in albums like stamps, so I have been forced to auction some of them off again to satisfy family and colleagues. Another thing that is interesting about Wegner is that while he created these great masterpieces for the cabinetmakers, he did not mind designing cheaper chairs for nursing homes and student dormitories. They were created from an idea of pure practicality, but they are still fashionable today and can be found in different institutions."
Danish Design in the 21st Century
"The market has witnessed something of a new boom in the 21st century. Particularly in relation to the many mergers of bank branches in Denmark around the year 2000, which freed up a large amount of Danish design furniture on the market. Several of the classics have increased significantly in value over the years. The "Papa Bear Chair" for instance, which in the 1990s was sold for prices between DKK 500 to 1,000, can now go for between DKK 30,000-40,000. Or rosewood sideboards that 15-20 years ago were sold for DKK 100 a piece, but are now sold for DKK 20,000-25,000."
In addition to Hans J. Wegner and the rest of the Danish furniture landscape, Peter also has another passion that reveals which department of Bruun Rasmussen in Denmark he works in: "It is no secret that I am a fan of the Danish football club AGF in Aarhus, which has resulted in quite a bit of heartache over the past 10 years, but I would almost say that it hurt more when the character of Erik Nielsen in the well-known Danish TV-series Krøniken (Chronicle) began to saw one of Finn Juhl's "Egyptian chairs" into pieces. That cut deep in my heart."