Utzon's Tapestry returns to the Sydney Opera House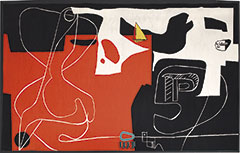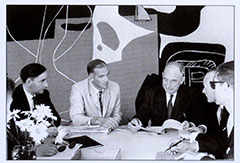 3 images
"We are thrilled that the Sydney Opera House, with the help of philanthropists, bought Utzon's tapestry at our most recent international auction here in Copenhagen. Similar tapestries by Le Corbusier were originally planned for the interior of the Opera House, so it is as if the project has come full circle now that Utzon's tapestry returns home to Sydney, where it can be enjoyed by the many visitors at the Opera House," says Frederik Bruun Rasmussen
The Architect's Private Art Collection
The tapestry was part of a larger private art and design collection that Jørn Utzon had accumulated since the 1950s for his home in Hellebæk about 50 km north of Copenhagen. It was this collection that we had under the hammer during the last week, and which resulted in impressively high hammer prices.
Particularly the collection of Le Corbusier's artwork achieved remarkable hammer prices - including the tapestry, which achieved a new world record with a hammer price of DKK 2.1. Corbusier's work in general surprised positively in their hammer prices at the auction, including his enamel paintings and graphic work.
Prior to the auction in Copenhagen, the tapestry was exhibited at Collective Design Fair in New York and at the Danish Embassy in London, which led to great international interest in the art collection at the auction.
Utzon and the Opera House
Jørn Utzon (1918-2008) graduated as an architect in 1942. His career gathered momentum, when he in 1957 won the international architectural competition for the Sydney Opera House. The next several years he worked on the century's most famous building, and everything went according to plan until the change of government in Australia in 1965, which forced Utzon to leave the construction process of the building.
The opera house's exterior was finished, and Jørn Utzon was about to begin work on the interior. He had plans to decorate the interior of the opera with tapestries by Le Corbusier. But the new governing party in the Australian parliament wanted the building finished quickly and cheaply. Therefore, they suspended the payments to Jørn Utzon, who withdrew from the construction in 1966. Australian architects completed the construction, and the Sydney Opera House was completed in 1973 without Utzon's stamp on the interior design and the planned decorations by Le Corbusier.
The Pritzker Architecture Prize
In 2003 Jørn Utzon received, as the first Dane ever, the Nobel Prize for architecture, the Pritzker Architecture Prize. In the statement accompanying the award the president of the jury, Lord Rothschild, referenced Utzon's talent in general and the Sydney Opera House in particular. The building was include on the UNESCO World Heritage list in 2007 - the year before Utzon died at the age of 90.
Read more about the auction's million prices and museum purchases