Auction: Finn Juhl 100 years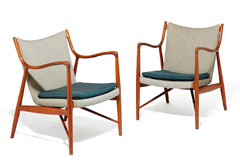 4 images
Finn Juhl at auction
This year, Finn Juhl (1912-89) would have celebrated his 100th birthday, and, like a number of major Danish cultural institutions, Bruun Rasmussen will also be marking the occasion. At 5 pm on Thursday 27 September, we will be holding an auction of Finn Juhl's design icons and craft art. A special catalogue has been published to accompany the auction – order it here
An international name
International interest in Finn Juhl is immense. His prestigious interior design of the Trusteeship Council chamber at UN Headquarters in New York is currently undergoing major refurbishment by two young Danish architects Kasper Salto and Thomas Sigsgaard. In addition, Daelim Contemporary Art Museum in Seoul is providing the venue for a major Finn Juhl exhibition, the opening of which was attended by the Crown Prince and Crown Princess earlier in the year.
In Japan, Park Tower Gallery in Tokyo recently held an exhibition of Juhl's furniture classics, and on his birthday (30 January), a true replica of his home in Ordrup, north of Copenhagen, was opened in Takayama. In January, Frederik Bruun Rasmussen visited both the exhibition and the reproduction of Finn Juhl's home, and it was on this trip that the preparations for the themed auction took shape.
Innovator of Danish furniture design
Finn Juhl originally trained as an architect, but furniture design, craft art and interior design became his main occupation. Together with his longstanding collaborator, cabinetmaker Niels Vodder, he created some of the most distinctive and iconic furniture in Danish design history, which today has the status of being valuable collectibles and museum pieces.
With his soft, organic and sculptural mode of expression, he breathed new life into Danish furniture design and became one of the most influential figures of the "Danish Modern" design movement. Many have even given him the credit for raising international awareness about Danish furniture, and for Denmark's reputation as a leading design nation in the early 1950s.
The ambience is recreated
As a tribute to the great furniture designer, at the preview at Bredgade, we will be recreating the atmosphere of Finn Juhl's private home in Ordrup which, with his own furniture and works by contemporary artists of his day, is a prime example of Danish modernism – both in terms of its interior design and its architecture.
At the preview, a string of his furniture and craft art will be on display, accompanied by the paintings of artists such as Vilhelm Lundstrøm, Richard Mortensen and Jean Deyrolle, providing a rich insight into the manifold oeuvre of the influential architect and his formidable sense of interior design.
Auction: 27 September 5 pm
Preview: 13-17 September
We look forward to seeing you!