Online auctions every day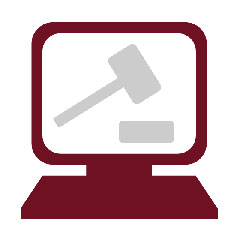 Submit your bid when it is most convenient for you
Every day of the year Bruun Rasmussen conducts online auctions that brim with high-quality items at reasonable prices. The auctions are concluded at fixed days every week depending on the category of the items, but the auction is open already a week and a half before the final hammer strokes. Thus, it is possible to submit your bids well in advance and at the time of day that suits you best personally. All you have to do is hit the auction in question at the front page of our website which will give you direct access to all the items included in the auction.
The hammer strokes
The bidding will close for individual lots from 8 pm, and the categories are distributed across the days of the week as follows:
Monday: Older furniture, lighting and carpets

Tuesday: Modern art and design

Wednesday: Older paintings and drawings

Thursday: Varia, jewellery, silver, porcelain etc.
Books, stamps, coins, weapons and wine will be knocked down once every month as of 1.00 pm.
For further information, please consult the auction calendar which also lists the times for the various previews.