Kasper Nielsen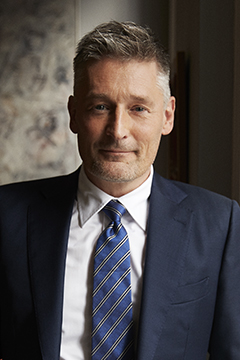 In Charge of Valuation
As Director of valuation and sales Kasper Nielsen (b. 1970) is the leader of our great team of valuation experts. His office is located at the branch in Nordhavn, Copenhagen, where he spreads his time between the sections of fine art, antiques, modern art and design, but he also travels around Denmark and abroad to valuate art in private homes. During the traditional auctions at Bredgade, he can most often be found on the podium as one of the auctioneers.
Art Expert on TV
Kasper is an avid public speaker on various topics within the world of art and is often used as an art expert by newspapers, radio and television. Many know him from programmes on Danish TV, where he through more than 10 years has shared his passion and knowledge with viewers on the popular antiques & arts programme "Hvad er det værd?" (What's It Worth?). Over the years he has also participated in Danish television programmes such as "Kunstquiz" (Art Quiz), "Guld på godset" (Treasures on the Estate), "Smagsdommeri og dansk malerkunsts fødsel" (Arbiters of Taste and the Birth of Danish Painting) and "På tærsklen til det moderne" (On the Threshold of the Modern). In 2009, he also served as a host on the TV programmes "Passion for the SkagensPainters" (Passion for skagensmalerne) and "Passion for guldalderen" (Passion for the Danish Golden Age).
Passion for Art and Antiques
As the son of an art and antiques dealer in Aarhus, Kasper has since his childhood been surrounded by paintings from the Danish Golden Age, Rococo commodes and antique silver. Since 1992, he has worked professionally with art. Within the auction business his employers have included Nellemann & Thomsen, Crafoord Auctions and Ellekilde Auction House. In 2003, he joined Bruun Rasmussen as a valuation expert in fine art and has since 2009 been part of the management team.