Jakob Dupont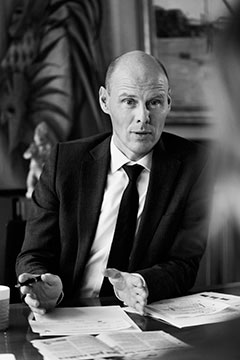 At the helm of a modern, accessible auction house
With a background in computer science from the University of Copenhagen and as co-owner of a software development company, Jakob Dupont was appointed IT manager at Bruun Rasmussen in 1995 – a job that allowed him to combine his technical expertise with a strong personal interest in art and antiques. Jakob Dupont was the driving force behind the launch of the online auctions in 2004 and joined the Executive Board in 2008. Over the years, he has had the overall responsibility for various areas of the business – from the service function to HR and marketing. By virtue of his strategic skills and his great insight into the company and the auction industry in general, he was appointed CEO in the summer of 2013.
Speaking about his vision for the company, Jakob Dupont explains:
"I want to continue the modernisation of the auction house and increasingly adapt it to the modern, global consumer. 'Accessibility' and 'wide appeal' are my keywords, and it is my intention that Bruun Rasmussen will be visible on all digital platforms and appeal to a broad customer segment."  
It is his goal that the traditional auctions and the online auctions continue to complement one another, and for him, it is vital that Bruun Rasmussen is at the forefront when it comes to expertise and customer satisfaction. Respect for his team of employees and their professionalism and performance lies at the heart of Jakob Dupont's leadership. He always sets the bar high and invests in the development of the staff, as he believes they are the ones who, together, will lead Bruun Rasmussen into the future.
Jakob Dupont is based at Bruun Rasmussen's head office in Copenhagen's Nordhavn. He lives in Fredensborg, north of Copenhagen, with his wife and three children.