Frederik Bruun Rasmussen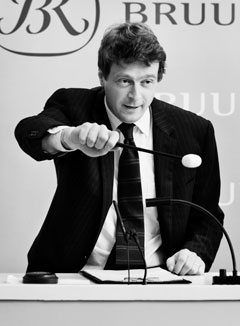 Conversant with the international auction market
Frederik Bruun Rasmussen (b. 1971) is the third generation at Bruun Rasmussen Auctioneers and has therefore grown up with art and antiques. He has a particular interest in modern art and has appeared as a valuation expert on DR's popular art and antiques programme "Hvad er det værd?" (What is it worth?).
He trained at Bruun Rasmussen Auctioneers and has worked at the Neumeister auction house in Munich, Tajan in Paris and Christie's in New York.
Today, he is the international sales and valuation director and is responsible for establishing and nurturing Bruun Rasmussen's international customer contacts. When there is an international auction at Bredgade, you will often see him on the podium as auctioneer or on the telephone, bidding on behalf of customers from all over the world.
For yderligere information, kontakt venligst:
Frederik Bruun Rasmussen: +45 8818 1003 · fbr@bruun-rasmussen.dk