The department in Bredgade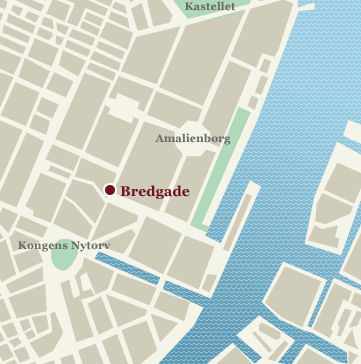 Bruun Rasmussen's house at Bredgade 33
The house at Bredgade 33 is the oldest of Bruun Rasmussen's three major houses. This building was purchased by Arne Bruun Rasmussen in 1947 and he was fortunate enough to acquire it at a knockdown price.
It was included in a 1942 development project under which the house was condemned to demolition. The project scheduled 27, 29, 31 and part of 33 for demolition to allow Sankt Annæ Plads to be run through to Borgergade across Store Kongensgade. Christian X's equestrian statue, which today looks straight into Bruun Rasmussen's preview rooms (and not onto Kongens Have, as originally planned), was part of the plan.
Concerning his acquisition of the property Arne Bruun Rasmussen has said: "I was hunting high and low for a suitable property in the centre of town and thanks to my good friend High Court Attorney Henry Fischer-Hansen I managed to acquire the property at Bredgade 33." 
The history of the building
The building dates from 1794, when it was commissioned by Captain Ole Gjødesen and erected by Architect Andreas Hallander. It is an elegant classicist building with seven bays facing the street and three large luxury residences divided between three storeys. When the building was built the street was called Norgesgade, and was not named Bredgade until 1877.
One of the most important owners of the building was the founder of DFDS Seaways, Ship-owner H.P. Prior (1813-75), who acquired the front house overlooking the harbour. When Prior purchased the building, the present courtyard housed stables and a large garden.
In 1865-66, Prior built a rear building on part of the garden; this was intended as a studio for his son Lauritz, who was a sculptor.
The studio building's architect was Wilhelm Petersen and symbolic reliefs depicting the arts of painting, architecture and sculpture adorn the façade. In addition, there are a number of portrait medallions, one of which depicts the great Danish sculptor Bertel Thorvaldsen.
This rear building has acted as studio for many famous Danish artists, including Carl Bloch, P.S. Krøyer, Laurits Tuxen and Edvard Weie, and it has also housed several schools of art. Both the rear building and the building facing Bredgade are today protected.