Hammer Prices in the Millions and Museum Purchases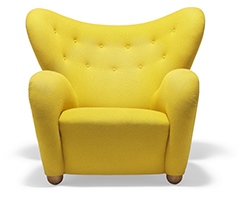 4 images
At Bruun Rasmussen, we began the summer with two weeks of auctions in Copenhagen, where we swung the hammer over more than 1,500 auction lots with art, design, antiques, jewellery and wristwatches.
A Meal Worth Millions and a Danish Art Collection
The auction's most expensive piece was made by the Dutch 17th-century painter Pieter Claesz. The breakfast piece depicts a ham, herring, tobacco paraphernalia as well as other vanitas symbols and was sold for DKK 4.8 million. Drawings from a large Danish collection were also in great demand. The popular collection was created in the 19th century by the Danish lawyer and art collector Benjamin Wolff, and the many lots of the collection were sold for a combined hammer price of DKK 12.6 million. A drawing by Ambroise Dubois achieved no less than DKK 4.2 million on its own, and an album with drawings by Johan Zoffani went for DKK 3.2 million. Other million kroner hammer prices among the older works of art included a prospect from Italy by C.W. Eckersberg, a market scene from Viborg by Martinus Rørbye and not least Camille Pissarro's portrait of a boy from the Danish West Indies with African roots. These three works went for respectively DKK 1.5 million, DKK 1.325 million and DKK 1 million.
Rolex, Cartier and the Hunt of the Five-clawed Dragon
The first week of auctions ended with wristwatches and jewellery, and here we achieved a Danish record price of DKK 1.7 million for a Rolex Daytona Cosmograph from the mid-1960s – the so-called "Paul Newman" model. Cartier was also among the auction's favourite brands among international buyers, which was especially true for Cartier's rare diamond-set panther bangle, which was sold for a world record price of DKK 1.2 million. At the auction for modern art, a series of five paintings by the German artist Martin Kippenberger achieved a price of DKK 1,825 million, while modernist works by the Danish artist Vilhelm Lundstrøm went for DKK 700,000 and DKK 725,000. One of the sales presented a selection of Asian antiques, and here the highest price achieved was DKK 1 million, which was bid for 12 Yongzheng plates with a motif displaying the Chinese myth of the five-clawed dragon hunting the flaming pearl.
The auction also offered great hammer prices within Danish design, including Flemming Lassen's iconic chair "The Tired Man" and one of his upholstered sofas, which ended at DKK 610,000 and DKK 560,000 respectively.
Art Worthy of Museums
The museum world followed the auction closely and acquired a total of 16 works of art. In this context, we return to the auction's highest hammer price, since Claesz' breakfast piece was bought by the Nivaagaard Collection. Both the Nationalmuseum in Stockholm and the National Gallery of Denmark had set their eyes on drawings from Benjamin Wolff's collection, and they can now supplement their collections with three and six drawings, respectively. The Bornholm Art Museum also participated in the bidding and went home with three works, including Harald Giersing's formidable landscape from the island of Christiansø. For Ribe Kunstmuseum, it was all about Anna Ancher's portrayal of a mother with her child, while Fuglsang Art Museum bought Kristian Zahrtmann's work "Leonora Christina i Maribo Kloster" (Leonora Christina in the Maribo Monastery). The auction's final museum purchase was L.A. Ring's greyish view from Spodsbjerg in northern Zealand, which can now settle in for a future at the Øregaard Museum.