Concrete vs. CoBrA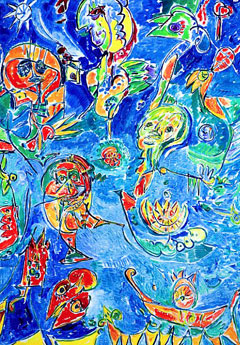 2 images
1948 was a decisive year in the history of Danish art, because it marked the inception of two later very dominant and internationally competing schools of art each with a radical view on the nature of art: the CoBrA movement and concrete art. In 1948, the waters were truly divided between abstract expressionism and geometrical abstraction. Free emotions vs. tight intellectual control. The painterly vs. the linear.
CoBrA
November 8th 1948 a small group of Danish, Belgian and Dutch artists met at Café Notre Dame in Paris where they founded the artist group with the now famous name CoBrA – a contraction of the three nations' capitals: Copenhagen, Brussels and Amsterdam. The movement was not least based on Asger Jorn's, Ejler Bille's and Carl-Henning-Pedersen's experiences throughout the 1940's as members of an association of artists called Høst. In CoBrA, the Danes were accompanied by like-minded artists from "The Dutch Experimental Group" – including Appel, Corneille and Constant. From Belgium, Christian Dotremont participated from the beginning, and Pierre Alechinsky joined him a little later.
Asger Jorn and Christian Dotremont were clearly the movement's great whips and its leading men as far as the articulation and propagation of CoBrA's values was concerned – values such as artistic freedom, life-affirming spontaneity, imagination and unassuming approaches. Significant inspiration was derived from children's free and spontaneous drawings and from elements of the subconscious that was so studied so fiercely in the psychoanalysis of the age. Another striking expression of the CoBrA group's way of thinking can be found in the Dutch artist Constant's manifesto from September-October 1948 which contains the following words: "If we observe forms of expression that include every stage of human life, for example that of a child (who has yet to be socially integrated), then we no longer find this distinction [between beautiful and ugly]. The child knows of no law other than its spontaneous sensation of life and feels no need to express anything else. The same is true of primitive cultures, which is why they are so attractive to today's human beings, forced to live in a morbid atmosphere of unreality, lies and infertility. A new freedom is coming into being which will enable human beings to express themselves in accordance with their instincts".
Concrete art
Concurrently, in the period from 1947 to 1950, a grouping within Danish art rallied round a geometrically abstract idiom – also stimulated by cross-border contacts and the establishment of an international circle of artists. As early as the summer of 1947, the sculptor Robert Jacobsen and the painter Richard Mortensen had travelled to Paris in order to live and work in a house for Danish artists in Suresnes. In the 1950's, this gave them a crucial position for one of this period's most important gallery owners and advocates of concrete art: Denise Rene in Paris.
Back home within the Copenhagen art scene, the exhibition community Linien II was established centred on artists such as Ib Geertsen, Richard Winther, Bamse Kragh-Jacobsen and Albert Mertz. Guest artists at the first exhibitions included Richard Mortensen and Robert Jacobsen as well as international artists from the circle associated with Galerie Denise Rene: Jean Dewasne, Jean Deyrolle and Serge Poliakoff.
It is quite interesting to note how much the concrete artists defined themselves as a counter reaction. With ill-concealed reference to CoBrA, the preface to Linien II's exhibition catalogue from 1948 states that "Danish abstract art is caught in the death convulsions of an emotionally drivelling impressionism groping around in the confused wilderness of its own spontaneity" and that Linien II's exhibition was "necessary in order to annihilate this mistake".
Concrete or CoBrA? Foresight or mistake? There is no accounting for tastes, they say. This auction presents significant works by artists from both movements, side by side, as a testimony to the great artistic conflicts of this period.